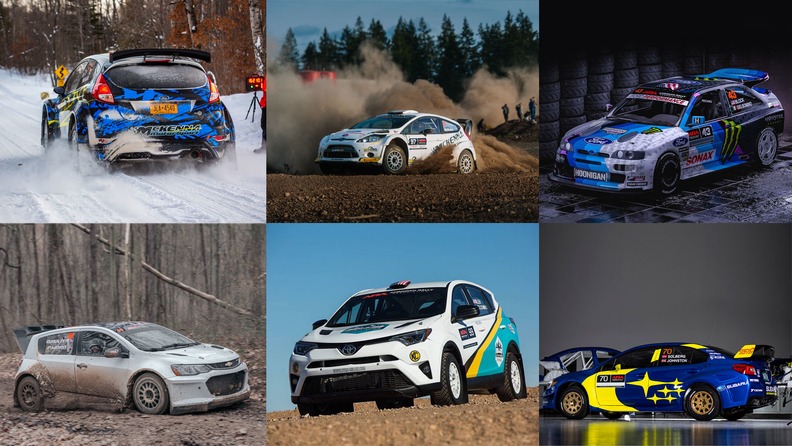 01 Mar

TOP RALLY CARS READY TO COMPETE IN THE 2019 ARA CHAMPIONSHIP
It's not a one-make-fits-all formula in the USA
Article originally written for Autoweek website here.
Rally cars are some of the wildest vehicles in motorsports. They need to drive at in excess of 130 mph on dirt, fly more than 100 feet through the air and be strong enough to deal with hazards like rocks, trees and river crossings all while remaining road legal and registered. The engineering challenges to design a car that's equally fast on gravel, dirt, snow, ice and tarmac are intense. As it turns out, there are multiple solutions to those challenges.
For the FIA and the World Rally Championship, the solution is to segment rally cars into neat and orderly classes with strict rules to ensure similar performance. But in the United States, the rules are a bit looser, and that's bringing out a spirit of experimentation and some incredible vehicle builds. Rally teams are taking unique approaches to the design challenges of stage rally. The result: America is having a resurgence of cool and ridiculous rally cars.
Factory-backed machines, WRC turn-key specials and homebrew monsters will battle it out on the U.S. stages this year. The 2019 American Rally Association season will see some of the most mechanically diverse fields in years. So, let's take a look at some of the coolest race cars in the country before they set off.
The Subaru Motorsports WRX STI is one of the most iconic racing liveries.
Subaru Motorsports WRX STI
You have to start with the best. Vermont Sportscar and Subaru have won all but a single national rally championship in the United States since 2006 with drivers like five-time champion Travis Pastrana and nine-time champ David Higgins. The connection between Subaru and rally runs deep, and for 2019 the Subaru Motorsports team is treating its loyal fans with the return of the marque's iconic blue and gold racing livery.
Subaru's last WRC title came in a blue and gold car driven by the legendary Petter Solberg, so it's only fitting that his son Oliver will bring it back alongside teammate David Higgins this season.
Ken Block's creation.
Ford Escort Cosworth (The Cossie)
Take a classic icon of rally and build it to a modern rally spec — that's Ken Block's Ford Escort Cosworth. Just unveiled this week, the new Hoonigan CossieV2 turns the rally ridiculousness up to its highest possible levels. Inspired by the current crop of WRC cars, the Cossie is a ground-up build for 2019 with a modern design philosophy. Big boxed fenders and a focus on aerodynamics permeate every inch of the car. No word yet on power, but we're expecting the word "big" to come up.
The car will turn its wheels in anger for the first time at next month's 100 Acre Wood Rally, just outside St. Louis. It's one of Block's favorite events; he's won it seven times in eight starts. From there, the Hoonigan squad will take the show around the globe on Block's Cossie World Tour.
Somehow, the motor doesn't affect the weight balance of the car.
LS3 V8 Chevrolet Sonic
LS swap the world! The LS3 Chevrolet Sonic is a passion project for rally and rallycross driver Pat Moro. An idea held in the back of his mind for years, the thought is simple — take a reliable crate motor and use it to reduce running costs while increasing reliability over a turbo four-cylinder. The LS3's stock 430 hp and broad torque curve will be more than enough to propel the super-Sonic to the front of the pack.
According to Moro, the V8 also has other benefits. Coming in under the cost of a single rallycross turbo, the LS3 in the Sonic is a downright bargain. The motor also doesn't affect the weight balance of the car. In fact, it's 17 pounds lighter than the four-cylinder turbo engine in the PMR Motorsport rallycross supercar.
Tedrick MealyPhotos from the 2019 Sno Drift Rally in Atlanta, Mich.
M-Sport Ford Fiesta R5
A turn-key race car developed for rising WRC talent, the M-Sport Ford Fiesta R5 is one of the most successful rally cars in the history of the sport. More than 250 of these machines compete at rallies around the globe. Two are currently in the United States.
Both Fiesta R5s in America are powered by a 1.6-liter turbocharged engine making nearly 300 hp. That doesn't sound excessive, but with AWD, a sequential gearbox and 14 inches of suspension travel, R5-spec machines are kings of grip on slippery rally surfaces. They excel on tight stage roads where their advantages of a short wheelbase and controllable power are maximized.
The M-Sport Ford Fiesta S2000 Turbo is a fast car with a lightweight frame.
M-Sport Ford Fiesta S2000 Turbo
Before the R5 class, the feeder specification for the WRC was Super 2000. Originally, these cars were powered by 2.0-liter naturally aspirated engines, but Barry McKenna's M-Sport Fiesta S2000 has something different hidden under the hood — a top-spec 2009 Ford Focus WRC motor. The engine produces more than 300 hp. The best part about this swap? It wasn't done in some shed or someone's garage; M-Sport installed the motor in its factory.
The resulting car is fast, combining power and a lightweight frame. McKenna's chassis won the British national championship in 2016 before coming to the U.S. the following year. Since then, it's taken multiple stage wins against factory teams.
This is not your average Toyota RAV4.
AP-4 Toyota RAV4
The top-spec rally class in New Zealand and Australian national rallies, AP-4 is a locally made alternative to R5-spec rally cars. Vehicles made to AP-4 rules are just as quick as European R5 machines, but they avoid the import fees and tariffs associated with bringing a car into Oceania. The AP-4 conversion kit is modular and can be applied to nearly any car, even a midsize SUV.
Ryan Millen, the ARA 2WD class champion in 2017, was left out in the cold after Toyota pulled its factory funding at the end of that year. But Millen still had his equipment, so he shipped a spare RAV4 shell to Force Motorsport in New Zealand and had them get to work. The result is an SUV with AWD, a sequential transmission, 300-plus turbocharged horses and oodles of suspension travel.
The Proto Mitsubishi Mirage is of Polish design.
Proto Ford Fiesta and Mirage
Take a Mitsubishi Evolution X, remove the body, and then graft the driveline and suspension onto a B-segment hatchback — that's the Proto engineering process. The Polish rally car design is available in many different bodies, two of which, a Ford Fiesta and a Mitsubishi Mirage, are in the United States. Designed to be as fast as an R5-spec car, but at a much lower cost, the Proto design is a proven platform for rallyists in Europe and the United States.
In America, both of these cars are rally winners, and the Mirage has even been piloted by WRC driver Bryan Bouffier at multiple events. Most recently, Piotr Fetela drove his Proto Fiesta to a rally win at January's Sno*Drift Rally.
Nearly all of these will be competing at the 100 Acre Wood Rally in Salem, Missouri, on March 15–16. Spectating is free, but if you want to get really close to the action, be sure to volunteer.