26 Aug

The Championship Battle heats up heading into Day 2 of Muscatell Ojibwe Forests Rally

Article originally written for American Rally Association here.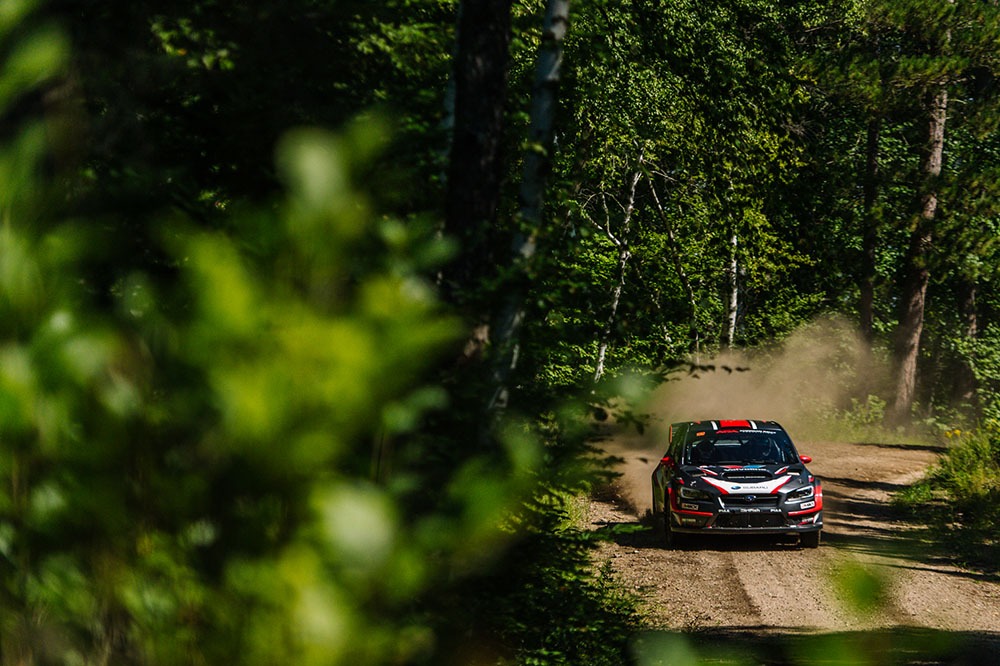 Lake Itasca, Minnesota (August 26, 2017)
Travis Pastrana leads over Subaru Rally Team USA teammate David Higgins heading into Day 2 of the Muscatell Ojibwe Forests Rally. The championship battle is a close as it's been all season and will most likely go to the final stage.
Today sees the rally move to the 10,000 Lakes region of Minnesota and the towns of Lake Itasca and Detroit Lakes. Roads here combine fast and flowing sections with many blind crests mixed with tight and twisty areas that can catch a driver out. The surface is mostly smooth packed dirt, with a few areas of soft sandy soil that can potentially cause ruts. The forests are also more dense with many trees right on the apex or exit of corners. Weather will certainly be a factor as rain moved in overnight creating slippery conditions.
Yesterday had a little bit of everything. Although the shorter of the two days, the first day's stages proved to be some of the most challenging with fast top speed straight sections connected by very narrow and rocky ATV tracks. With multiple championships on the line, many top teams found that pushing too hard or not enough could have a decisive impact on their title hunt.
At the front of the field, Travis Pastrana and Robbie Durant had no choice but to go flat out from the start. Pushing hard from the word go, Pastrana and Durant won all 6 stages on Friday. Job done, but Pastrana was concerned about tire wear.
"Robbie and I were spot on all day and my Subaru couldn't have been better," said Pastrana, "unfortunately, we may have been a little too much hammer down because we only get 10 tires for the entire rally and 6 of them are completely shagged already."
In the neighboring stall, Subaru Rally Team USA's David Higgins and Craig Drew had a much different story, a story of small gremlins and bad luck. On the first loop of stages, Higgins clipped a rock on a rough and narrow section of Stage 2, bending a wheel and damaging his steering. Later in the stage, water intruded into his cockpit after a water splash, blocking visibility. After getting the car sorted, Higgins and Drew proceeded to the second loop, where their bad luck continued. On Stage 5, an obstruction on their windshield burned out a wiper motor, impairing visibility again. Said Craig Drew, "All we can do is keep pushing to the end."
After a bit of a slow start, McKenna Motorsports' Barry McKenna and Leon Jordan used their nimble Fiesta S2000 Turbo to full advantage of their long suspension travel on the rocky ATV trail sections of Stages 2 and 5. They hold a solid second place despite dropping 30 seconds on yesterday's final stage with a puncture.
In Restricted Open 4WD, Seehorn Rally Team's Jeff Seehorn and Karen Jankowski kept a measured pace all day. They are currently fourth overall and have a 5 minute lead on their championship rivals Travis Nease and Krista Skucas. Nease was especially careful over the rocky sections trying to preserve his car, so much so that he was caught by Ryan Millen and Rhiannon Gelsomino's Rally RAV4 near the end of the long 17 mile West Gulch stage.
Production 4WD championship leader Dennis Romero and Jose Maria Rodriguez of RKT Motorsport had a tough introduction to the Muscatell Ojibwe Forest Rally. They suffered 4 punctures and bent their suspension. Sportsmanship came to the rescue as fellow class competitor Nick Spencer lent one of his spares so Romero could continue. Although still in it, Romero is over 10 minutes behind CPD Racing's Lauchlin O'Sullivan and Scott Putnam. O'Sullivan and Putnam are back on form after repairing the car from NEFR's roll. They spent much of Wednesday and yesterday's first loop dialing in their suspension and differential settings, but still set the pace in Production 4WD. Sumit Panjabi unfortunately suffered the worst in the class when he rolled his car on the final run of the Crossroads stage. The DNF means he's out of the championship hunt, but he and his co-driver were still all smiles at the end of the day.
In 2WD, Ryan Millen and Rhianon Gelsomino continued their domination and are on track for that illustrious perfect season. Utilizing the Rally RAV4's SUV-length suspension Millen was able to climb glide over the rocks and dig through the sand on Friday's stages. He later said the conditions were not unlike the desert racing he's accustomed to back home in California. Team O'Neal Racing's Dave Wallingford and Leanne Junnila were a bit down on power as the Fiesta Turbo they started the season was not repaired in time for Ojibwe. Wallingford said that it took a couple of stages to get back in the groove of how to get the most out of the normally aspirated Fiesta R2. The pair currently sits 4 minutes behind Millen and Gelsomino.
Follow along with all of today's action right here on the ARA Facebook page. Also be sure to follow live on our website or the ARA App.
Photo Credit: Alex Wong
About American Rally Association (ARA)
We are a member driven organization dedicated to the sport of stage rally by providing a transparent and inclusive sanctioning body. A 501 (c)(3) non-profit, ARA is lead by elected and appointed board members who deliver a framework for safety, competition, promotion, and educational forums for all aspects of the sport. The common goal of our members, volunteers, and organization is a thriving stage rally program in America.