28 Feb

Subaru's David Higgins and Craig Drew win Rally in the 100 Acre Wood

Originally Posted on Rally-America.com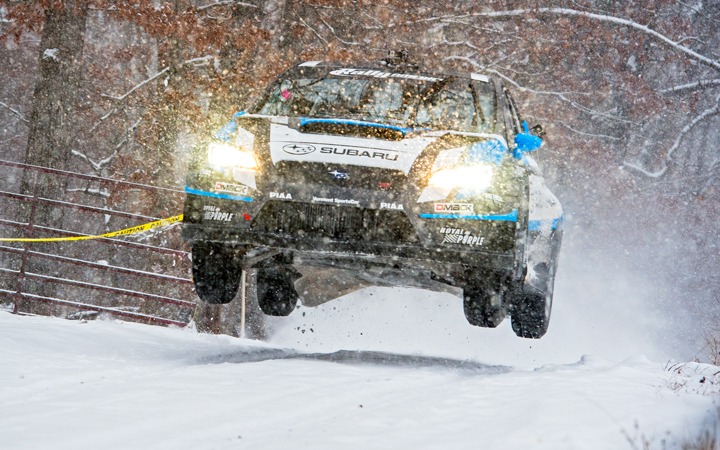 SALEM, Mo. (February 28, 2015) – Subaru Rally Team USA earned its second-straight victory of 2015 at a snowy 100 Acre Wood Rally this weekend in the Ozark foothills of central Missouri.
"To have won two races with the new car and to have the car run perfectly for both of them is very, very good," said Higgins at the finish. "It's great for our championship."
At the 100 Acre Wood Rally, the team introduced the next step in development for its new 2015 Subaru WRX STI Rally Car. The updated vehicle, built by Vermont SportsCar, features an aggressive wide body kit and a sharp new team livery.
The weather in Missouri at this time of year is notoriously changeable and posed a tough challenge for teams, who ran about 100 miles of timed stages over two days of competition. With ice, snow and gravel on the roads, tire strategy was critical.
"We brought 86 tires with us," said Higgins. "You never know what the conditions will be at the Rally in the 100 Acre Wood."
In two-wheel drive, Cameron Steely and co-driver Preston Osborn were fastest in their 2012 Ford Fiesta R1. It was a career-best fifth-place overall for the pair.
"It was like skating on an ice rink out there," said Steely. "The conditions weren't perfect but it ended up working for us. We don't have much horsepower but it doesn't matter when it's that slippery."
Friday's stages presented a mix of gravel and glare ice, with every corner presenting a new traction challenge. On Saturday, a snowstorm moved into the region and by the final stage of the day, there was six inches of fresh snow on the ground.
"It was so much fun throwing the car around again that I almost wanted more," said Higgins, who made fresh tracks in the snow as the first car on the road. "Almost."
But as conditions worsened, officials were forced to cut the rally short. Competitors did not start the three final stages and the race was called Saturday evening at the conclusion of Stage 15.
In the Super Production class, Garry Gill and Stephen Kurey took the win in their 2007 Subaru Impreza, while James Robinson and co-driver Brian Penza won B-Spec in their 2015 Honda Fit.
Some 60 teams were entered this weekend across the national and regional portions of the event, with spectators treated to a diverse field that included traditionally dominant Open class players like Subaru Impreza and Legacy rally cars, as well as top-spec two-wheel drive Ford Fiestas, Honda Fit and CRZ models, a Toyota Matrix, and a quirky Porsche 944.
ABOUT RALLY AMERICA: Based in Williston, VT, Rally America, Inc. sanctions the Rally America National Championship, which consists of eight national-level events in 2015 located at a variety of venues across the country, from Portland, Oregon to Newry, Maine. For more information please visit www.rally-america.com.