15 May

Rally America competition returns with Olympus Rally this weekend

Originally Posted on Rally-America.com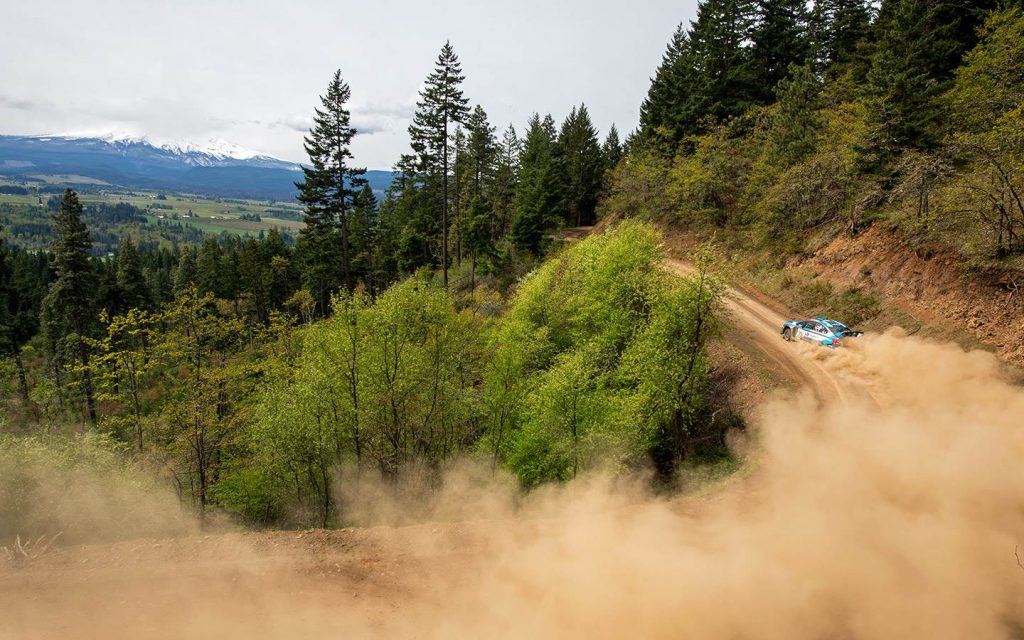 SHELTON, Wash. (May 13, 2015) – Rally competition returns to the Pacific Northwest this weekend when the Rally America championship travels to the Puget Sound area near Shelton and Matlock for the Olympus Rally, May 16 and 17. Live coverage of the event begins on Twitter Saturday morning at 9 a.m. at www.twitter.com/rally_america.
"This is a special event with a long story in rally and it's great to see it back on the Rally America calendar," said Higgins, who won the Olympus Rally in 2011 with co-driver Craig Drew. The duo is currently undefeated after three events in the 2015 season and head to Washington looking to build on that momentum. "The thing I'm most looking forward to is getting onto some fresh stages, new roads, and new challenges."
With nearly 50 competitors entered in the regional and national portions of the event, the Subaru Rally Team USA crew will have some able challengers for the overall podium. Fan favorites FY Racing are returning to competition in their Open class Subaru, with driver Adam Yeoman and co-driver Jordan Schulze looking to improve upon their second-place performance last month at Round 3.
Newcomer Jeff Seehorn is stepping up to the national category at Olympus in his Super Production Subaru. He and co-driver Michael Milos set some of the fastest stage times in regional competition last month and could be contenders. But Nick Roberts and co-driver Rhianon Gelsomino, as well as Lauchlin O'Sullivan and co-driver Scott Putnam, won't make it easy for the rookie team. Both squads are poised to continue to battle in Super Production in their race proven Subaru competition vehicles.
In two-wheel drive, it is expected to be a battle of Fords with Oregon Trail winners Troy Miller and co-driver Ole Holter in their Ford Fiesta R2 battling Steve LaRoza and co-driver Alison LaRoza in their 2014 Ford Fiesta ST. Cameron Steely and Preston Osborn are also in the hunt in their 2014 Ford Fiesta ST, while longtime Rally America regulars Ramana Lagmann and co-driver Chrissie Beavis will play the wildcard in their rear-wheel drive BMW M3.
In B-Spec, Tracey Gardiner and Tracy Manspeaker are currently in second place overall in their 2007 Toyota Yaris, trailing behind B-Spec leaders James Robinson and Brian Penza in the 2015 Honda Fit.
The Olympus event has recently taken a two-year break from the championship, but it has seen wins by many rally superstars in its long history. Ken Block and Alex Gelsomino took the win for Ford the last time the race joined the Rally America calendar, back in 2012. Travis Pastrana and co-driver Christian Edstrom have also counted Olympus among their victories for Subaru.
Higgins and Drew, both based in the U.K., recently traveled to Washington for testing with their 2015 Subaru STI, and Drew says the event could be won or lost in recce before the rally itself even gets underway.
"Olympus Rally is going to really put the co-drivers to the test," said Drew. "The nature of the roads around there is very technical and very twisty — a bit like the roads back home, really — and we're looking forward to the challenge."
The Olympus Rally is a storied stop on the Rally America calendar, with a history spanning four decades. It ran as a World Rally Championship event in the notorious Group B era. Rally legends John Buffum, Rod Millen, Hannu Mikkola, Markku Alen and Juha Kankkunen have all had big wins there over the years. Gene Henderson and co-driver Ken Pogue were its inaugural winners back in 1973, in an AMC Jeep.
Saturday's action begins with Parc Expose at 9 a.m. in downtown Shelton on Railroad Avenue, between 2nd and 4th. Sunday kicks off with Parc Expose at The Ridge Motorsports Park in Shelton, at 1060 West Eells Hill Road.
Rally America will provide live updates on Twitter at www.twitter.com/rally_america using the hashtags #RallyAmerica and #OLY to filter Olympus Rally news. Attendance is free and a complete spectator guide is available for download at www.OlympusRally.com/Spectators/.
ABOUT RALLY AMERICA: Rally competition can be simply described: "real cars, real roads, real fast." It's an all-season motorsport that sees drivers and their co-drivers take modified road cars to the limit as they achieve blistering speeds over courses that cover more than 100 miles of gravel, dirt or snow-covered roads. Based in Williston, Vermont, Rally America, Inc., sanctions the Rally America National Championship, which consists of eight national-level events in 2015 from Portland, Oregon, to Newry, Maine. More at www.rally-america.com.
(PHOTO: Higgins and Drew race to victory in Oregon. CREDIT: Subaru Rally Team USA)