19 Jul

Production 4WD – New England Forest Rally Preview

Article originally written for American Rally Association here.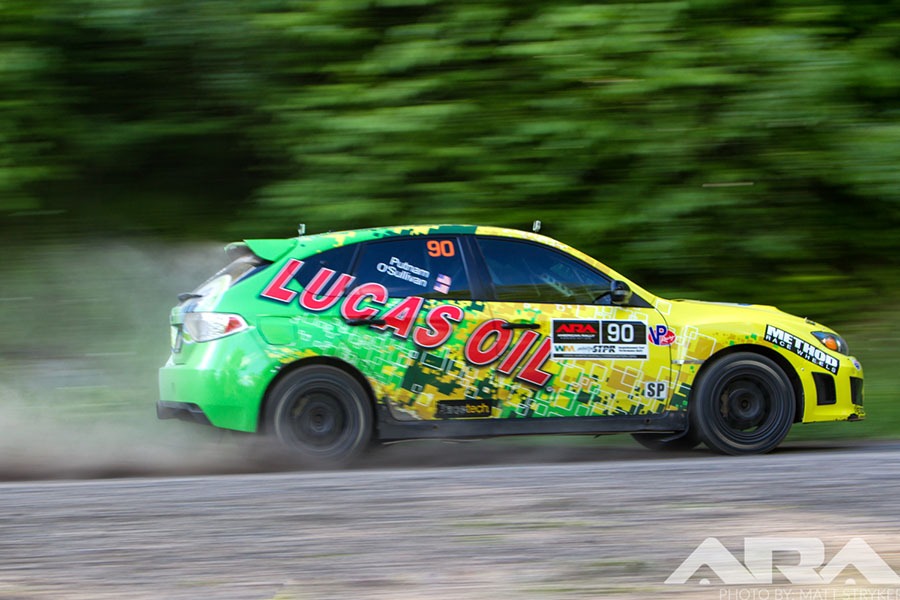 Newry, Maine (July 19, 2017)
Production 4WD class teams are set to descend on the logging trails and back roads of the New England Forest Rally. The two day event, run July 21-22, will see teams tackle 110 miles of the best roads Western Maine and Northern New Hampshire have to offer.
Lauchlin O'Sullivan will reunite with co-driver Scott Putnam in their Subaru STi after O'Sullivan's solo adventure at Climb to the Clouds two weeks ago. The pair come into NEFR sharing a four way tie for the Production 4WD class lead in the championship standings.
Last we saw them in the rally car, O'Sullivan and Putnam competed at STPR, their first event in nearly nine months. The CPD Racing USA drivers contested the Production 4WD class with Troy and Jeremy Miller, swapping stage times early in the rally before pulling ahead. O'Sullivan and Putnam held onto their lead, winning the class at STPR.
A few weeks later, CPD Racing USA entered the Mt Washington Hillclimb in the Prepared 1 class with a specially built hillclimb machine. The event marked O'Sullivan's first time on the Mt. Washington Auto Road and, due to the rules in the team's chosen class, would tackle the mountain alone.
Hillclimb rules typically prohibit co-drivers outside of specific rally classes. It's up to the driver to memorize the mountain and drive it to their best memory. Scott Putnam, O'Sullivan's normal co-driver and CPD Racing USA's team owner, worked as a team manager this weekend; providing support and mechanical help throughout the competition.
Despite the hurdles, a new car and a driver green to hillclimb, CPD Racing USA saw success at Mt. Washington. After setting competitive practice times all weekend, O'Sullivan set a blistering 6:44.64s run up the Auto Road. The performance proved fit for first in class and seventh overall.
Andrew Comrie-Picard, better known by his his nickname ACP, and Jeremy Wimpey will compete at NEFR in the recently unveiled Team O'Neil Focus RS.
ACP is known for his gentle, yet quick, driving style and has competed for numerous teams, including the Scion factory team and Team O'Neil Motorsports. From 2012 through 2014 ACP was on 17 consecutive national rally podiums, culminating in the 2014 US National 2WD title driving a Team O'Neil-campaigned Ford Fiesta ST.
The RS, unveiled two weeks ago ahead of its first competition weekend at Climb to the Clouds, is believed to be the first rally-prepared Focus RS in North America. In it's first event, the RS was driven up Mt. Washington by ARA President Tim O'Neil and ARA Vice-President Chris Cyr. The pair took second in the Rally 1 class with a time of 7:20.75s, breaking O'Neil's old personal best time.
Sumit Panjabi and Matt James are back in ARA competition after a tough STPR.
The pair had a promising start to the event, holding onto third in the Production 4WD class throughout Friday and Saturday morning. The trouble began during the rally's first loop, when Panjabi entered the spectator corner on Stage 6 with too much speed, forcing him wide into the outside embankment. The car pitched onto its side before coming back down onto its wheels. Fortunately, the car suffered no damage and the hit resulted in a minor loss of time for the EvoX.
That can not be said for the car's second impact. During Saturday's second loop of stages at STPR the car went wide on a high speed corner and clipped a tree, ripping the EvoX's trunk apart. The impact caused mostly cosmetic damage, and Panjabi pressed on for a short time until his motor began to stutter. Not wanting to cause irreparable damage, Panjabi and James elected to end their rally.
Panjabi repaired the car quickly and entered Rally Baie-des-Chaleurs, in Quebec, a month later. Panjabi and co-driver for the event Mal Swann, fared well, finishing tenth overall at a highly competitive event. Panjabi will be looking to have a strong NEFR and finish on the Production 4WD podium.
Photo Credit: Matt Stryker (Top, 3) Alex Wong (1, 2)
About American Rally Association (ARA)
We are a member driven organization dedicated to the sport of stage rally by providing a transparent and inclusive sanctioning body. A 501 (c)(3) non-profit, ARA is lead by elected and appointed board members who deliver a framework for safety, competition, promotion, and educational forums for all aspects of the sport. The common goal of our members, volunteers, and organization is a thriving stage rally program in America.