24 Apr

PREVIEW: AMERICAN RALLY ASSOCIATION DIRTFISH OLYMPUS RALLY
Shelton, Washington, is the destination for 59 competitors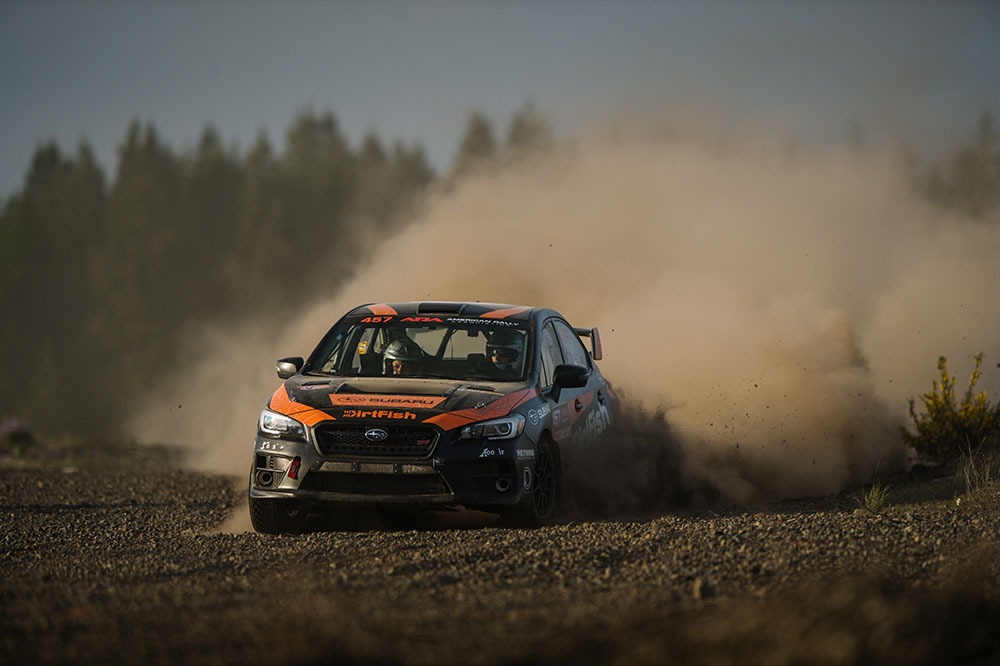 One of the most storied American stage rallies is ready to begin. April 27-28, 59 competitors will travel to the logging town of Shelton on Washington's Olympic Peninsula to take on the third round of the American Rally Association championship, DirtFish Olympus Rally.
Olympus Rally is one of the most widely recognized American rallies in the world. First run in 1973, the rally has a past rich with fast cars and legendary drivers. Remembered for a golden age that lasted from 1986-1988 when it was a part of the World Rally Championship, Olympus has the honor of hearing the last roars of the legendary Group B cars from Audi, Lancia, Toyota, and Peugeot as they ran their final competitive miles in the 1986 WRC season finale.
But that was 30 years ago, and now the rally is in the prime of a Silver Age resurgence as the legacy of WRC Olympus Rally continues to live on. Many of the event's current stage roads saw Group B competition in 1986, and, in keeping with the WRC endurance mentality, Olympus has some of the longest stage roads in the US. All but two stages at this year's event are over 10 miles in length and the event's longest test, Nahwatzel, sets the bar at 20 miles of twisting turns in the deep forest. Perfectly balanced, the 134 stage and 134 transit miles of this year's DirtFish Olympus Rally will make for great competition.
Olympus is a rally of attrition, the stages are fast and sections deep in the forest get to be somewhat narrow. Drivers will battle through roads that snake their way up and down mountains, where turning a wheel the wrong can send them into trees or over cliffs. The racing surface is composed of a rough gravel and deep potholes dot the rally from start to finish.
Conditions at Olympus normally play a key role in how the weekend shakes out. Last year, dry and dusty roads caught competitors in a blinding cloud of dust kicked up by cars on the road ahead, forcing them to slow down or crash. The year before, rain moved through the region midway through the event, drenching some stages, but not others. Competitors who adapted best to the dynamic surface and grip changes were the ones who found success that year. Forecasted conditions this year show overcast, but dry weather in the region, but local rainfalls can move in quickly.
Fifty-nine teams from around the world will start Olympus Rally on Saturday morning. Here's who will be competing for the Olympus podium:
ARA championship leaders Piotr Fetela and Dominik Jozwiak come into Olympus with a 12-point lead in the standings. They'll need to mount a strong defense in their Proto Ford Fiesta in order to maintain their points advantage.
McKenna Motorsport will field a two-car effort to challenge for the top step of the podium; Seamus Burke and Martin Brady will drive the team's M-Sport Ford Fiesta R5 alongside team leaders Barry McKenna and Leon Jordan in their M-Sport Ford Fiesta S2000 Turbo. The rally will be Burke's first behind the wheel of an R5-spec machine and his first time in 4WD car since 2016. For McKenna, improving on past success is paramount, his first-ever ARA rally lead was taken away by a gearbox failure midway through the event last year.
Subaru Motorsports USA will come out of the gate this weekend hungry for a rally win. 2019 is the first year since 2011 that the factory Subaru team has started round 3 of the national championship without a rally win. Leading the charge will be defending ARA champions David Higgins and Craig Drew while surprise stars Oliver Solberg and Aaron Johnston look for a second podium in as many events. Both are in 2019 Subaru WRX STIs. Higgins also needs an improved result versus 2018. Last time out, he retired from Olympus in with a gearbox failure and, last month, he saw a rally lead reduced to third by an electrical issue.
After coming back last month from his 2018 season-ending spinal injury, Team O'Neil driver Dave Wallingford and co-driver Leanne Junnila are ready to get into the podium battle in their M-Sport Ford Fiesta R5. But Dave is still nursing his back, and how fast he goes may end up tied to how well he feels.
Jeff Seehorn and Karen Jankowski of the AMSOIL Seehorn Rally Team finished second overall at Olympus last year but blew an engine at last month's 100 Acre Wood Rally. A return to form and a podium finish would be the ideal way for the team to get back into the championship fight.
Olympus Rally coverage will be available on FloSports.tv thoughout the weekend. Coverage begins at 11:30 p.m. ET on Saturday and 6 p.m. ET on Sunday. Updates will also be available through ARA on the official ARA Rally App and its social media channels. Rally teams such as DirtFish Motorsports, Subaru Motorsports USA, and Fetela Rally Team also post frequent updates online. Olympus Rally is also a perfect getaway for rally fans living in nearby Seattle. For those heading out to the event, there's a free spectator guide available that gives you a full event viewing schedule and directions on how to get around.