22 Jul

New England Living up to its Reputation of Attrition

Article written for American Rally Association here.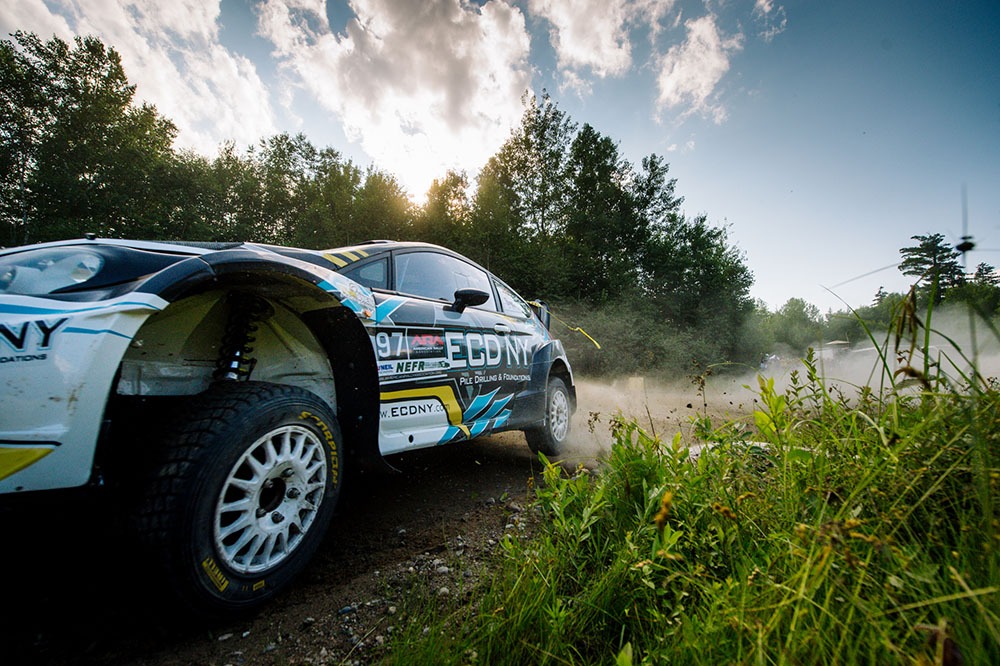 Errol, New Hampshire (July 22, 2017)
The New England Forest Rally is well known as a rally of attrition; this year, the event is living up to that reputation. Several front-running teams have experienced mechanical issues such as, blown shocks, electrical problems, and loss of brake pressure.
Day 2 of the New England Forest Rally sees NEFR move northwest and across the border to Errol, New Hampshire. The stages today are just as rough and complicated as yesterday's, with numerous exposed rocks and rough sections on the deep woods logging roads. Today's stages see drivers tackle a variety of wide flowing roads, tight rocky roads, and rutted dirt roads; sometimes all three in a single stage.
David Higgins and Craig Drew started Day 2 of the New England Forest Rally by 1.3 seconds over Subaru Rally Team USA teammate Travis Pastrana, but expect that lead to grow throughout the day. If Higgins maintains his lead through the end of today, he will be crowned ARA's first overall Champion.
Due to an injury on Stage 4 Pastrana's co-driver, Robbie Durant, was forced to withdraw from the event late last evening. A heavy high-speed compression on Icicle Brook, yesterday's final stage, caused injury to Durant's back. He was examined by medical personnel on-site and cleared to head home. Durant only requires bed rest and time to recover.
Though Durant is sitting the day out, Pastrana was able to restart today, without penalty, with Greg Dorman in the co-driver's chair. Dorman, an accomplished co-driver, won the RO4WD class and placed fourth overall at Rallye Perce-Neige with driver Bill Bacon. Dorman also works for Subaru Rally Team USA as a Marketing and Public Relations Coordinator. By continuing NEFR today, Pastrana has the opportunity to gain valuable experience for next season.
Barry McKenna and Leon Jordan spent yesterday afternoon nursing their Fiesta S2000 Turbo back to the paddock. The pair lost nearly nine minutes on stage due to an overheating ECU, the car kept cutting out and stalling. With a strong start today, that issue appears to be solved, but the hole may be too deep to recover from.
In RO4WD, Jeff Seehorn and Karen Jankowski lead after Day 1 over class championship leaders Travis Nease and Krista Skucas. In 2015, Seehorn crashed out on Fish Pond, a stage now run in reverse. He is eager to finish today and currently holds a spot on the overall podium.
Travis Nease and Krista Skucas had a big scare on Stage 3: South Arm. The pair suffered a nearly complete brake failure near stage end. Rocks and debris from the road surface were kicked up into the wheel well and broke a front brake caliper off of Nease's Subaru. What followed was a fantastic bit of sportsmanship.
During the 1 hour wait to run Icicle Brook, Jeff Seehorn, ACP, Lauchlin O'Sullivan, Travis Pastrana, along with several others donated parts and helped Nease fix the car. They were able to effect repairs, allowing Nease and Skucas to finish the day, albeit on only three calipers.
Andrew Comrie-Picard and Jeremey Wimpey currently lead Production 4WD class in the Team O'Neil Ford Focus RS. The team have been diagnosing several small issues with the car this weekend with the cooling and braking systems.
Second in class are Alvin Fong and William Machin in the Evo IX. The pair are strong competitors in the region and are stoked to be in such close competition with ACP and Lauchlin O'Sullivan.
Lauchlin O'Sullivan and Scott Putnam spent yesterday fighting turbo issues. The CPD Racing USA team ran most of the first day's stages without boost, forcing O'Sullivan to momentum drive the car. Even with the turbo issue, O'Sullivan and Putnam are an equal match to ACP in the Focus RS. The two traded stage wins throughout the day. The team currently sits third in class due to penalties applied after a missed chicane yesterday afternoon.
Ryan Millen and Rhianon Gelsomino officially won the first-ever ARA Open 2WD Class championship by passing through MTC and starting NEFR yesterday. The Toyota Racing team celebrated the accomplishment by dousing the car with champagne as it left Parc Expose. The Rally Rav4 currently leads Open 2WD after trading stage wins with Ramana Lagemann throughout yesterday morning.
Second in Open 2WD class podium are Savage Dave Wallingford and Leanne Junnila. The pair are driving Wallingford's older Fiesta R200 this weekend after the team's crash at Climb to the Clouds two weeks ago. The R200 is a bit of a different vehicle compared to Wallingford's normal Fiesta R2T and Wallingford is taking some time to get used to it. The R200 is naturally aspirated, and requires a higher RPM driving style than the boosted R2T.
Ramana Lagemann and Chrissie Beavis fought clutch issues throughout yesterday afternoon. The clutch began to overheat and slip on the longer stages of Friday afternoon. As a temporary, on stage fix, Lagemann copied a technique he saw Frank Sprongl use in 2001, mix Cola into the gearbox oil. The shade-tree solution works, and Lagemann was able to return to the paddock, though not after losing time to the problem.
Erik Potts and Claudia Barbera sit first in Production 2WD and second of all 2WD after yesterday. The pair have had a smooth rally and are showing great speed in their Subaru BRZ.
Two more stage loops remain today, so be sure to keep up with all the NEFR action from Northern New Hampshire and Western Maine right here on the ARA Facebook page.
Photo Credit: Alex Wong (Top, 1, 2, 4, 5), Krista Skucas (3)
About American Rally Association (ARA)
We are a member driven organization dedicated to the sport of stage rally by providing a transparent and inclusive sanctioning body. A 501 (c)(3) non-profit, ARA is lead by elected and appointed board members who deliver a framework for safety, competition, promotion, and educational forums for all aspects of the sport. The common goal of our members, volunteers, and organization is a thriving stage rally program in America.