27 Jul

New England Forest Rally Review

Article originally written for American Rally Association here.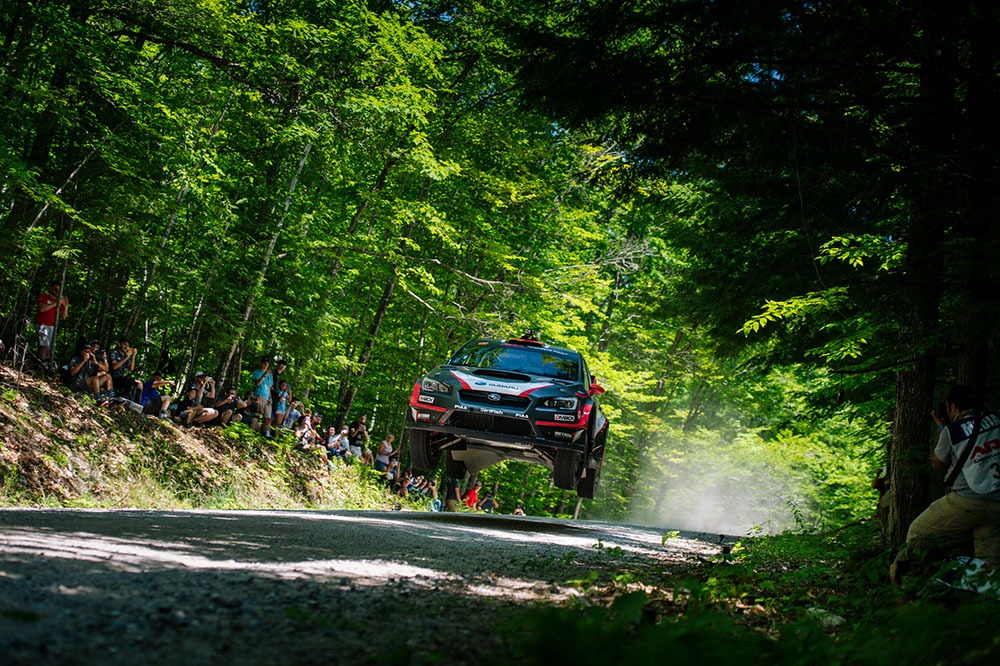 Newry, Maine (July 27, 2017)
Travis Pastrana and Robbie Durant/Greg Dorman won the 2017 New England Forest Rally this past weekend, beating Subaru Rally Team USA teammates David Higgins and Craig Drew in one of the most dramatic rally finishes in recent memory. In Open 2WD, Ryan Millen and Rhianon Gelsomino secured the first-ever American Rally Association (ARA) Open 2WD National Championship along with Millen's first New England Forest Rally (NEFR) win.
Anchored in Sunday River Ski Resort in Maine and the town of Errol, New Hampshire, the New England Forest Rally moves between multiple states over its two days. The event is known as one of attrition, large rocks lie just off the racing surface along the length of every stage and the roads themselves can be incredibly rough on both teams and vehicles. This year, NEFR saw competitors tackle 105 miles of flowing back woods roads and rough commercial logging trails.
"A lot of strategy to play," said Craig Drew, "the stages are very fast, but also very rough. It's easy to pick up a puncture or have a problem. You have to keep your noses clean as best as you can."
NEFR started well for Travis Pastrana and Robbie Durant; the pair charged hard out of the gate and took an early 2.5 second lead after the first two stages. Their fortune changed on Stage 4, when a high-speed compression after a jump injured Durant's back. Durant managed to finish the stage despite his injury and the pair returned to service. There, Durant was examined by medical staff and subsequently decided he could no longer continue in the event.
That evening, Pastrana petitioned the rally stewards to continue the rally with a different co-driver. That request was granted under ARA Competition Rule 6.2.3, allowing his race to continue with SRT USA Marketing and Public Relations Coordinator Greg Dorman sitting shotgun.
More details on that request are available on the ARA website and at the end of this article.
Dorman is an accomplished co-driver with many wins on his resume, including one this past February in the Restricted Open 4WD class at Rally Perce-Neige with Bill Bacon. After finding a driving suit to borrow from David Higgins, Dorman strapped in and the #199 set off to run Day 2 of NEFR.
"First and foremost I really want to thank all of the competitors," said Pastrana, "everyone sat down, and decided what was gonna be ok. The fact that all of you guys said, 'you know what? We want to go out there and we want to have a good race', Thank you. Thank you to everyone for allowing us to continue."
Knowing their teammates would be driving at a slower pace than the day before, Higgins and Drew entered Saturday with a plan of conservation, driving just quickly enough to stay ahead and to ensure a win. The strategy worked well until Stage 12, the penultimate stage of the rally. Higgins and Drew went wide, impacting one of New England's many off-line boulders. The impact caused considerable damage to Higgins' right rear corner, breaking a wheel and collapsing the right-rear suspension. The pair drove the car on 3 wheels for the full 27 mile transit to service.
On the same stage, and possibly in the same location, Pastrana and Dorman also went wide, impacting a rock and damaging their right rear suspension as well. The impact was less severe in their case, only breaking a control arm.
Incredibly, both cars arrived in service without causing any additional damage and the 30 minute repair session began. By the end of service, Pastrana's car was nearly fully repaired, Higgins' was another issue. His impact had almost torn away the right rear suspension and severely damaged the car's rear driveline. It was a choice of fixing one or the other, Higgins would go into the final stage with only front wheel drive.
One 4.1 mile stage remained in the event and only 1 second separated Higgins and Pastrana. With a fully functional car, Pastrana took the stage, and rally, win. With victory at NEFR, Pastrana pushes the ARA National Championship to the Muscatell Ojibwe Forests Rally. It will all come down to the final event.
"It's a mega-tough event. When you're the first car down the road you're the first person to hit the rock. We thought we had the job done and everything was going swimmingly and then bang," said Higgins, "we went back out with no driveshafts, bad brakes and a lot of bits missing. Rally is all about continuing with what you got and that's what we did."
Barry McKenna and Leon Jordan had a strong start to NEFR, but then lost nearly 10 minutes after their car began to stall and shut itself down during the day's second loop. The issue was quickly diagnosed on-stage as an overheating ECU. The solution was an old drag racer's tip for lowering charge air temperature – ice.
The team sold out local general stores of ice and cold packs in an attempt to keep the car running properly; and they succeeded. McKenna and Jordan were immediately back on the pace come Saturday morning. Matching Higgins on the day's opening stage and on Stage 6 earning their second outright ARA stage win. The pair climbed their way up the standings throughout the day, reaching as high as fourth overall before a penalty dropped them out of podium contention.
Restricted Open 4WD also saw its share of attrition this past weekend. Travis Nease and Krista Skucas came to NEFR with hopes of maintaining their championship lead. On Friday, the pair suffered a broken brake caliper after road debris knocked a brake line off. The repair for that damage was one of the best examples of sportsmanship yet seen in ARA competition, multiple teams pitched in to help get the car working during an hour wait between stages.
For Saturday, the team focused on preservation, starting the day on three working brakes before electing to clamp off the rears as a preventative measure and to keep the fronts working. The repairs held, allowing Nease and Skucas to finish second in RO4WD and maintain their championship lead.
"Our goal was just to finish this event," said Nease, "we weren't gonna catch Jeff (Seehorn) at this one, so we didn't want to do anything silly."
Jeff Seehorn and Karen Jankowski drove a fast and consistent rally at New England. The paid had only been to NEFR once before, in 2015. That year their rally was ended by an impact with a rock. This year, Seehorn was eager to defeat his rock and finish NEFR strongly. After going a bit wide over the famous Concord Pond jump and causing a minor scare, the team settled into a quick rhythm. They quickly took first in RO4WD and then third overall, a position they maintained to the finish.
"It was a great result. We wanted some revenge from the last time we were here," said Jankowski, "it was really important, especially for this round, for us to have a good finish. Jeff drove great, really smart and clean all weekend."
With Seehorn's win at NEFR, he reduces Nease's championship lead to only 3 points. The class championship will be decided at the final ARA round of the season at the Muscatell Ojibwe Forests Rally.
Production 4WD was highly contested this past weekend, as well. Andrew Comrie-Picard (ACP) and Jeremy Wimpey reunited at New England to drive the all-new Ford Focus RS rally car in it's first-ever stage rally. The pair maintained a close lead in class on Saturday against strong opposition from multiple fronts, ultimately earning the RS it's first competitive win.
"It was an amazing weekend," said ACP, "Debuting a new car is extremely difficult and it's a huge success to us to win… We were lucky to win today. Frankly we came in here thinking 'well we probably won't get Lauchlin [O'Sullivan], but not have to worry about anyone else', but then everyone else turned out to be really fast."
Second in Production 4WD were newcomers to the ARA national stage Alvin Fong and William Machin. Fong and Machin are strong competitors in the North East, their Black Box Rally Team has competed regionally at NEFR and STPR for the past several years. This year, the pair had one of their strongest performances ever, challenging Lauchlin O'Sullivan and ACP for stage wins throughout the weekend. The team had a late scare thanks to an off that broke some rear body work, but ultimately finished second in class, only 14 seconds behind the RS of ACP.
Third on the Production 4WD podium were Sumit Panjabi and Matt James. The pair had some trouble at last month's STPR and were forced to retire after multiple impacts. This weekend, the pair dialed back their pace and dove more conservatively with the goal of finishing the weekend. The clean drive earned them a podium finish.
Lauchlin O'Sullivan and Scott Putnam entered the event hoping to gain a championship lead. They were in a tight battle for the lead with ACP before going wide on Stage 8 and impacting a rock. The subsequent roll ended their rally in dramatic fashion.
With their start at NEFR, Ryan and Millen and Rhianon Gelsomino secured the single point they needed to lock up the Open 2WD championship. The Toyota Racing team celebrated by showering the car with champagne on its way out of Friday's parc expose. On Saturday, the team found themselves with a strong lead after Ramana Lagemann and Chrissie Beavis retired due to clutch issues – a position they would maintain through the remainder of the weekend.
The win at NEFR marks Millen and Gelsomino's fifth for five in the ARA. The pair are now only one victory away from earning the first perfect season ever in ARA competition.
"It's pretty special this weekend. We've had a lot of good competitors at each rally and they pushed us really hard," said Millen, "I'm pretty stoked to be here, to win the championship and win our fifth rally in a row. How do you even put that into words?"
Taking second in 2WD were "Savage" Dave Wallingford and Leanne Junnila. The pair had trouble getting up to pace in the older Fiesta R200 they brought while the R2T is being repaired. Wallingford, unused to naturally aspirated motors, had some issues keeping the car in its power band. On Saturday, the team began to show their normal pace, working their way back up the order and taking second in 2WD.
Erik Potts and Claudia Barbera-Pullen had a strong weekend in New England in their Production 2WD Subaru BRZ. The team, coming off a strong finish at Climb to the Clouds two weeks earlier, showed a quick pace right off the bat on Friday and continued this throughout Saturday's stages. At one point on the Day 2, the pair were running as high as second in 2WD. They finished first in Production 2WD and third in overall 2WD.
Next month brings us to northern Minnesota for the final round this season, the Muscatell Ojibwe Forests Rally will be held August 25 and 26. Three championships will go to the wire and be decided next month. We hope to see you there either in person or online following all the action live.
Below is the official response to NEFR inquiries, request, and the ARA rules.
July 27, 2017 
Official Response to the New England Forest Rally inquires, requests, and the ARA rules 
During the 2017 New England Forest Rally on July 21 and 22 there were a number of abnormal rule situations and organizer requests that I want to clarify.  ARA has always tried to live up to the commitments of clarity and transparency.  While I would have preferred to publish this information during the event there was not enough time to do so.    
I want to start with the request by Travis Pastrana on Friday July 21 to change co-drivers.  The co-driver Pastrana started the event with, Robbie Durant, was injured during the Friday stages and could not safely continue.  Due to this complication Pastrana and the team decided to make a formal request to the ARA stewards for a replacement.    
The stewards reviewed the request and the 2017 ARA rules to determine how to proceed.  The request was granted per rule 6.2.3 (l) of the General Competition Rules:  
6.2.3 Authority and Duties of the Stewards The Steward(s) of the Event shall be responsible solely to ARA for enforcing compliance with the regulations governing the event. The Steward(s) shall settle any claim which might arise during an event, under reserve of the right of appeal. When ARA has appointed more than one Steward, the Stewards shall act as a committee and the Steward appointed as the Senior Steward shall act as chairman of that committee. The Senior Steward is, in particular, responsible for assigning stewarding duties, planning and holding meetings and for ensuring that the event report is prepared and submitted on time. When only one Steward has been appointed, that Steward shall prepare and submit the event report on time. When more than one Steward is appointed, one of the Stewards will be designated as the Safety Steward. The Stewards of the Event have power in accordance with these GCRs to:   (l)	Authorize the change of driver or competition vehicle; 
While this rule may be interpreted differently by some it can and was interpreted by the NEFR stewards that they could grant the request by Pastrana.  The request was placed on the NEFR page of the ARA website and the official event notice board Friday evening after the stewards review.    
The next item I want to address, again for complete clarity, was at the end of the event.  During impound car number 75 of David Higgins was found to be approximately 50 pounds under weight.  According to bulletin #1 the car must weigh a minimum of 3200 pounds.   
Upon review of the 2017 ARA Technical Rules and Bulletin #1 it was discovered that there is no penalty for breach of these rules.  Under the ARA rules the Stewards do not have the authority to create new rules or penalties, only to enforce the existing rules.  Therefore, no penalty was assessed. Before the Muscatell Ojibwe Forests Rally in August we will issue a new Bulletin to address this issue.    
Finally, I have had a number of questions on how the points will be distributed for Pastrana, Durant and Dorman.  As this situation has not happened before we addressed it with a revised version of the 2017 ARA Points Guidelines and created a new bulletin.  According to this bulletin Pastrana will receive 22 points, Durant 1 and Dorman 21.    
  Erick Nelson ARA Competition Director 
Photo Credit: Alex Wong
About American Rally Association (ARA)
We are a member driven organization dedicated to the sport of stage rally by providing a transparent and inclusive sanctioning body. A 501 (c)(3) non-profit, ARA is lead by elected and appointed board members who deliver a framework for safety, competition, promotion, and educational forums for all aspects of the sport. The common goal of our members, volunteers, and organization is a thriving stage rally program in America.