20 Jul

NEFR Heats Up as Prominent Competitors Drop Out – Higgins and Drew Lead After Day 1

Article originally published on American Rally Association website here.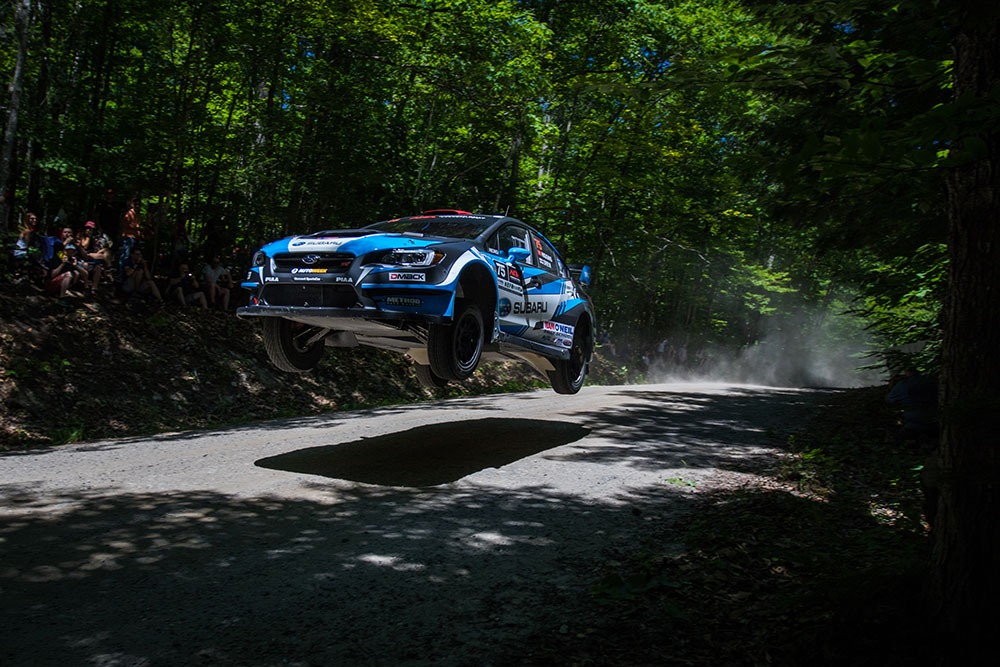 Newry, Maine (July 20, 2018)
David Higgins and Craig Drew lead the New England Forest Rally after the first day of competition. The championship leading Subaru Rally Team USA pair took the lead early in the day and have extended it on each subsequent stage.
The battle lines at NEFR have been drawn, despite the short nature of the day's stages. Thirty-five competition miles broken up between four stages were tackled by the field of fifty-four drivers on Friday, with all but 4 finishing out the day. While NEFR's typical attrition has not struck the wider field, it did target two high-profile competitors, Barry McKenna and Ken Block.
McKenna was the first to have troubles, though his day started fast and on the limit. The pair of Barry McKenna and Leon Jordan put on the biggest show at the stage's famous crest, out jumping Higgins and Drew by at least 30 feet on both runnings of the stage. But a freak series of events on South Arm, Stage 3, caused McKenna's front right brake rotor to shatter, sending the break pads loose inside the wheel, where they eventually cut a brake line. With no brakes, the pair retired on Friday. But plan to renter under super rally rules for Saturday.
Ken Block and Alex Gelsomino suffered heartbreak today when the team's beloved 1991 Group A Escort Cosworth burned to the ground immediately following a crash on the day's fourth stage, Icicle Brook. Up until that point, Block had been competing for an overall podium position and was setting strong stage times. The crash began when the Cossie's transmission failed to downshift when asked while Block was setting up a corner. When it finally selected the gear, the jarring shift tightened Block's line, sending him and Gelsomino over a large rock on the inside of the corner. After two rolls, the Escort landed on its wheels and immediately caught fire from under the hood. Unfortunately, the fire spread too quickly to save the car, and it burned to the ground.
Back to the front runners, sitting 50.3 seconds back from the leaders in second place are Travis Pastrana and Robbie Durant in their first event together since Ojibwe last year. Sporting the number 1 on the door in commemoration of their 2017 championship win, the team showed a good pace through Friday morning's first loop, but lost 45 seconds on Stage 3 after Pastrana missed a corner in the afternoon's dusty conditions.
Third overall behind the factory SRT USA machines is becoming a comfortable spot for Jeff Seehorn and Karen Jankowski. The pair currently sit 1:48 behind Pastrana. The team's new sequential transmission is being put to good use; Seehorn beat his 2017 time through Concord Pond by 10 seconds. Despite the improved pace, Seehorn believes the car has more to give, and that he can drive even faster.
Fourth overall and second in the Limited 4wd class, 50 seconds behind Seehorn, are Sam Albert and Michelle Miller. The DirtFish Motorsports drivers had a trouble-free Friday, but elected to take a measured pace on the day's tricky stages. Albert picked up the pace on the day's final stage, but was the first driver on scene at Block's crash. As a result, the DirtFish team, and all other competitors behind them, were given Seehorn's time for the stage.
Seamus Burke and Martin Brady lead the Open 2wd class and sit in fifth overall. The Irish drivers, overall winners of this event in 2016, are showing off their speed and experience this weekend at NEFR. They currently sit only 17 seconds behind Albert.
Sitting third in Limited 4wd and sixth overall, 4.6 seconds behind Burke, are Paddy Brennan and Matt James. The STPR L4wd podium finishers are always a threat, and the 21 second gap they have to Sam Albert is nearly close enough to strike. But they'll have to watch their backs as a hard charging Travis Nease and Caron Tomlinson work to make up time lost to thick dust on the say's third stage.
Open 2wd championship leaders Erik Potts and Claudia Barbera-Pullen currently sit second in class and ninth overall while splitting a pair of Limited 4wd class entries by seconds – 13.6 to Travis Nease in front and 9.4 seconds to Tim O'Neil behind. The team had a stress-free day and will be looking to carry that luck through tomorrow.
There's even more action from NEFR as we move into Day 2. This day contains 2/3 of the event's stage miles and some of the rougher roads on the rally's schedule. Will the event's typical attrition take a more wide-spread hold? That's the question of the weekend.
Leading Limited 2wd, Jordan Guitar and William Jang of the Maxxis Honda HPD Rally Team continue to do their thing of quick, consistent driving. They currently find themselves in the heart of a three way battle between Lucy Block and Keanna Erickson-Chang.
Photo Credit: David Cosseboom
About American Rally Association (ARA)
A member-driven organization dedicated to the sport of Stage Rally, the American Rally Association provides a transparent, inclusive, and growing sanctioning body to competitors throughout America. A 501 (c)(3) non-profit and wholly owned subsidiary of the United States Auto Club (USAC), ARA is led by seasoned Stage Rally professionals who work hand in hand with an experienced Board of Directors to deliver a framework for safety, competition, promotion, and education for all aspects of the sport. The common goal of our members, volunteers, and organization is a thriving Stage Rally program in America.