24 Jul

NEFR 2018 Weekend Review

Article originally written for American Rally Association website here.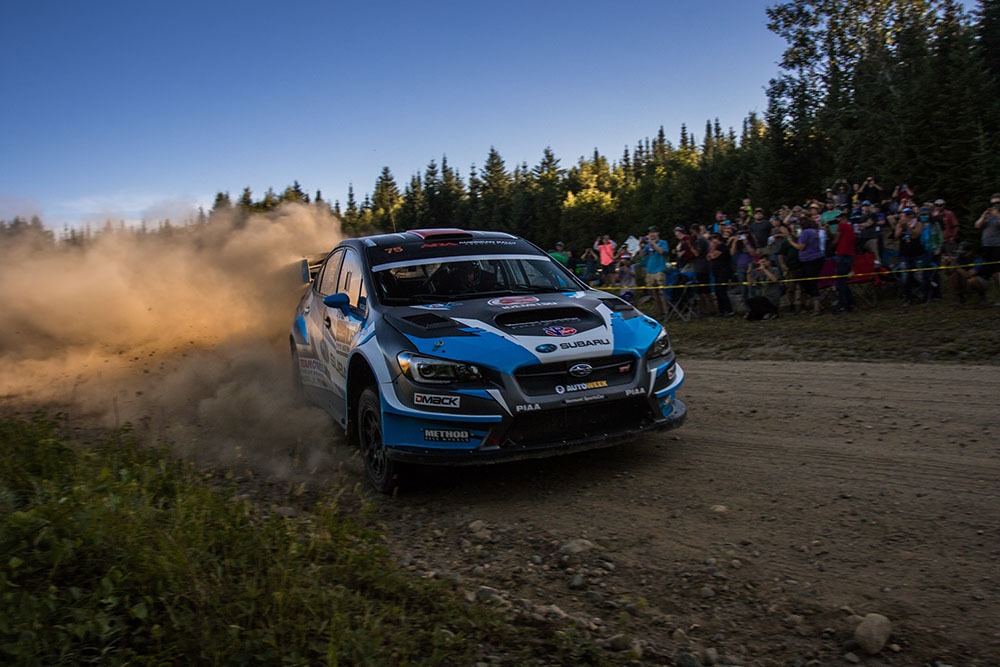 Newry, Maine (July 24, 2018)
David Higgins and Craig Drew won the New England Forest Rally this past weekend, overcoming the dusty conditions to earn their fourth win in the Maine and New Hampshire based event. The Subaru Rally Team USA drivers put on a tour de force in New England, taking the rally lead early and never looking back to win NEFR by six and a half minutes.
Based out of the Sunday River ski resort in Newry, Maine with service stops in Errol, New Hampshire, NEFR crosses the border several times along its 115 mile route. The rally is a favorite of both fans and drivers alike, featuring beautiful views of the White Mountains and crossings over several lakes and rivers in the region. For competitors, NEFR is known for technical stages and mashup of crests, corners, and jumps. It's many hazards also give it a reputation for attrition.
Opening on Friday with one of the best stage roads in the country, Concord Pond, NEFR immediately kicked into high gear. Reminiscent of a Finnish rally stage, Concord Pond challenged drivers to turn while flying over series of mid corner crests and dives. It's a stage that requires skill and commitment, especially over its final jump, a fast left handed corner over a crest that drivers can take at over 100 mph.

From there, NEFR moved north, traversing the Maine and New Hampshire borders with rally stages that wind their way over and between several lakes. Saturday's stages also brought out one of the rally's biggest threats, embedded boulders that stick up through the road surface. Hundreds of these rocks, most scarred from previous encounters with vehicles, sit in wait to damage skid plates, oil pans, and suspension components. Along the sides of the stage roads, even more rocks of varying sizes lurk, ready to ruin the day of competitors who come too close.
Even more of an issue this year was the dust. Dry conditions leading up to the event and still air created clouds of dirt that hung above the road surface, effectively blinding competitors. Many of whom missed chicanes or were forced to slow their pace after catching up to cars on the road in front of them. Even an extra dust minute on Friday, which doubled the time between cars on the road, failed to ease the conditions.
Barry McKenna and Leon Jordan were the first to fall to NEFR's trademark attrition. On the penultimate stage of day 1, McKenna's Fiesta S2000 Turbo clipped a rock with their right front wheel, creating a cascading failure that shattered a brake rotor and cut a brake line. Fortunately, they were able to slow the car safely and later returned to service without incident. Undeterred, McKenna and Jordan reentered for Saturday under Super Rally rules, taking a hefty time penalty for doing so, but salvaging the opportunity to earn championship points. The pair would go on to win all but one stage on Saturday, a testament to their speed, but would fall short of a podium.
Just one stage later, Ken Block and Alex Gelsomino met a more extreme fate. A mechanical failure in their Group A Ford Escort Cosworth, a vintage WRC rally car, caused Block to cut a treacherous corner too tightly and clip a rock at the apex of the corner. After rolling twice and landing on its wheels, the Cossie erupted into flames. Block and Gelsomino extricated quickly, but repeated efforts from fellow competitors and safety crews failed to put the fire out. The historic car burned to the ground.
With two of the front runners out of contention, ARA championship leaders David Higgins and Craig Drew of Subaru Rally Team USA opened a strong 50 second lead over teammates Travis Pastrana and Robbie Durant to close out Friday's stages. The strategy is one that Higgins and Drew have practiced well; push hard at the start to open a one minute gap, then measure the pace afterwards to maintain it. The plan to conserve also allowed the pair to avoid the bad luck and attrition that has marked many of their past runs at NEFR. Just last year, Higgins dramatically crashed from the lead of the event and tore out the rear suspension of his Subaru, forcing him to transit through 30 miles of stage and road section on three wheels. Looking to avoid a similar fate in 2018, the team took a measured pace on Saturday to take the win.
Without the Ford Contingent, Travis Pastrana and Robbie Durant became Higgins' main opposition for the overall win. Pastrana, back in a rally car for the first time since winning the 2017 ARA Championship last August, spent Friday getting up to speed with the lighter and faster 2018 Subaru STi. He and Durant kept the damage to a minimum until Friday afternoon, when Pastrana became lost in a dust cloud and missed a corner. The damage, 40 seconds, was time they would ultimately not fully recover. But with the fast Fords suffering from attrition, the second step on the podium was still within reach. Pastrana and Durant drove cleanly on Saturday's stages to take 10 seconds back from Higgins, but would later earn a ten minute penalty, dropping them to the third overall.
At the final check-in of the rally, just before podium celebrations, Durant made an error on his timecard and declared an incorrect check-in time at the Main Time Control. At the final MTC, competitors are able to check in early, unlike at other time control points at the event. This allows the vehicle impound and Parc Fermé at the podium location to fill as competitors arrive, but it is the co-drivers responsibility to declare their correct check-in time on the appropriate forms. Doing otherwise gives the immediate 10 minute penalty.
With Pastrana and Durant's penalty, Jeff Seehorn and Karen Jankowski moved up to second overall. The traditionally fast privateers became even faster in the weeks before NEFR, using the midseason break to add a sequential transmission and replace their Subaru's stock 6 speed manual. Quickly adapting to the driveline upgrade, Seehorn beat some of his personal best stage times from 2017 by a second per mile or more, a big improvement in stage rally. Though a bad starter motor on Saturday became a headache for the team, their stage times were unaffected. Seehorn and Jankowski drove a clean rally to earn their third second overall finish and third win in the Limited 4wd class
Seamus Burke and Martin Brady once again showed their pace in the V6 MKII Ford Escort, finishing fourth overall and first in the Open 2wd class. The 2016 NEFR overall winners showed that experience and a quick hand make the difference at a commitment-focused event. Burke and Brady kept it clean and consistently matched stage times with higher-spec 4wd cars. The strong finish marks JRD Rallysport's second class win in a row and sees the team break their tie for second in the championship.
Rounding out the top 5 are Travis Nease and Caron Tomlinson, who competed together for the first time since May's Olympus Rally. Last year, NEFR had the dubious distinction of being the one event where the DirtFish driver had mechanical troubles in 2017. He came into this year's event looking to make up for it. Nease has spent the last few ARA rallies improving his pace to compliment his clean driving style and it paid off at this weekend. Taking advantage of attrition higher in the field, he moved up to his overall spot and his higher speed driving allowed him to finish fifth overall and second in the Limited 4wd class by 50 seconds.
On the opposite side of the coin, Sam Albert and Michelle Miller had a tough weekend in New England. After a strong start, the team picked up a puncture early in the day on Stage 8. Forced to change the flat on stage, the DirtFish Motorsports team lost 5 minutes, dropping them from fourth to ninth overall and fourth in the Limited 4wd class, behind Tim O'Neil and Leanne Junnila in the Focus RS. For Albert, Saturday's focus shifted to damage control. Pushing hard through the day's remaining stages, Albert and Miller managed to take back their class podium spot on the penultimate stage, ultimately finishing NEFR sixth overall and third in the Limited 4wd class.
Tim O'Neil and Leanne Junnila entered NEFR looking to run their own race. The Team O'Neil founder and former ARA President competed at his first event since Climb to the Clouds last year, and at his first stage rally since Oregon in 2016. Driving the Focus RS that won the Production class at NEFR in 2017, O'Neil's main interest was comparing his times to that year's class winning driver Andrew Comrie-Picard in the same vehicle. Despite missing out on the podium, O'Neil came within 0.25 second per mile of ACP's pace. A success in his book.
Open 2wd championship leaders Erik Potts and Claudia Barbera-Pullen came into NEFR focused on the championship. After missing a podium at June's STPR owing to electrical issues, the pair knew they needed a strong finish in New England, and they got it. A measured pace saw the team take second in class by Friday's end. By midday Saturday, the they created a 2 minute buffer time between them and their competition in class. It was a position they would maintain to the finish, earning second in class and eighth overall.
Though split between classes, a great fight for overall position developed throughout Saturday in the 2wd classes. The three way fight between Jordan Guitar and William Jang of the Maxxis Honda HPD team, Lucy Block and Krista Skucas from Hoonigan Racing, and Keanna Erickson-Chang and Rhianon Gelsomino from Over-Hyphenated saw each of the three take and give stage position throughout the weekend. Guitar and Jang took top honors in the fight, owing to a strong start on Friday's stages. The pair took ninth overall and first in the Limited 2wd class.
After a slow start on Friday, Lucy Block and Krista Skucas picked up the pace for Saturday's stages, taking the fight to the factory Honda. Carrying on the Hoonigan Racing mantle after Ken's Cosworth fire, Lucy and Skucas took the offensive, gaining several seconds back on the Honda team through the day. The performance also saw them take the final Open 2wd podium spot from Erickson-Chang and Gelsomino. A position they would hold to ultimately finish tenth overall and third in class.
Next month, the America Rally Association Championship Series embarks on a three stop western road trip to round out the season. The first, Ojibwe Forests Rally, will be take place August 24-25 in the 10,000 Lakes region of Minnesota.
Photo Credit: David Cosseboom
About American Rally Association
A member-driven organization dedicated to the sport of Stage Rally, the American Rally Association provides a transparent, inclusive, and growing sanctioning body to competitors throughout America. A 501 (c)(3) non-profit and wholly owned subsidiary of the United States Auto Club (USAC), ARA is led by seasoned Stage Rally professionals who work hand in hand with an experienced Board of Directors to deliver a framework for safety, competition, promotion, and education for all aspects of the sport. The common goal of our members, volunteers, and organization is a thriving Stage Rally program in America.