28 Aug

Muscatell Ojibwe Forests Rally Review

Article originally written for American Rally Association website here.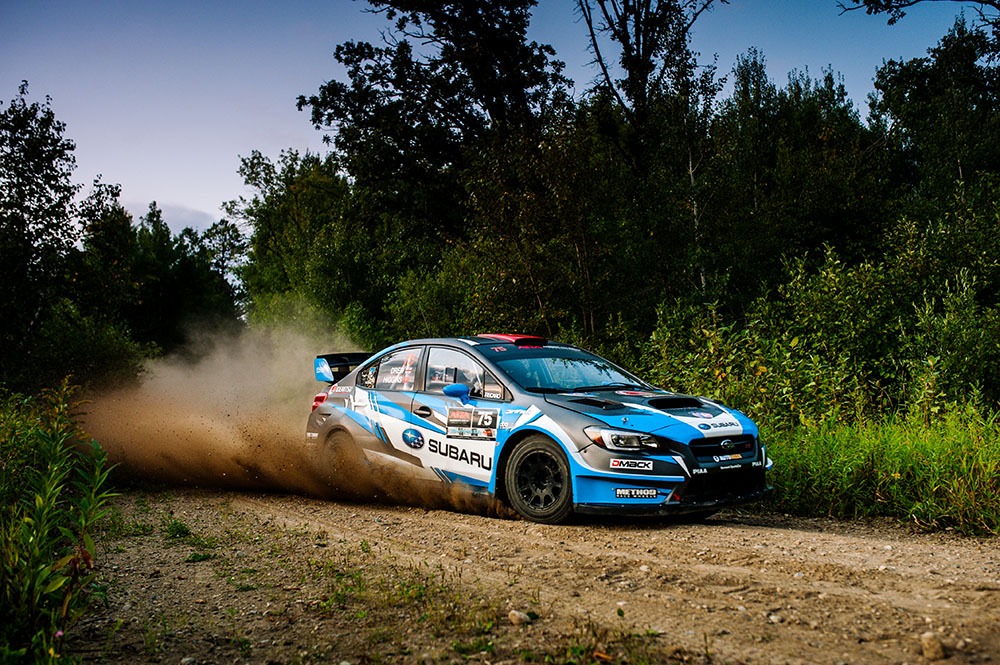 Detroit Lakes, Minnesota (August 28, 2018)
David Higgins and Craig Drew of Subaru Rally Team USA won the Muscatell Ojibwe Forests Rally this past weekend, outlasting harsh weather and tough conditions to take the win by just under two minutes. The pair resisted challenges from 2017 ARA Champion Travis Pastrana and WRC driver Bryan Bouffier to win their third ARA event in a row.
"The main goal was to just manage our gap to Bryan," said Higgins. "Really good day, it was pretty loose out there with the rain and drying surface and the loose gravel coming out. It was quite loose all the time. So we just had to have a steady day, no big risks. When you've got a good lead and done a good job, then it's important for us, and to Subaru, for the championship to bring the car home."
The Detroit Lakes, Minnesota based event was last year's season finale, the deciding round for multiple championship battles. This year, Ojibwe slotted in as round 5 of 7 and served an important role in the developing championship fights. With the win this weekend, Higgins and Drew have extended their championship lead to 24 points. They are now a full race ahead of Jeff Seehorn and Karen Jankowski in the standings.
For 2018, a revised road layout saw the return of nearly 75 miles of stage roads unseen in nearly a decade, reducing the advantage of experience for the front runners. 132 miles of smooth fast roads through the forest and around lakes on state forest roads, offer some of the best stage roads on the calendar. Flow, the defining attribute of Ojibwe, is why drivers make the trek. The corners, crests, and dips of the Minnesota State Forest roads flow together in a way that few other rallies do.
The Muscatell Ojibwe Forests Rally is never an easy event, but this year's proved especially difficult early on thanks to the weather. Heavy rains blanketed the 10,000 Lakes region of Minnesota on Thursday night, soaking the clay soil of Friday's early stages. The surface turned to a slushy mess and grip levels on the rally's opening stages resembled early January snow more than late August summer. Fortunately, the rally dried as the weekend pressed on, but not before the conditions claimed several drivers.
Starting first on the road, Travis Pastrana and Robbie Durant of Subaru Rally Team USA launched hard off the line, but slide wide in the slushy first corner of the Becker County Fair Super Special, striking a concrete barricade and spinning in front of the crowd. The hit damaged several components in the car's rear suspension. Though Pastrana was able to limp to the stage's finish, he would not continue.
Travis Nease and Melissa Sherowski, driving for Dirtfish, repeated the incident a few minutes later, crashing into the same barricade and damaging their radiator. Both Travis' were out for Friday while crews from their teams worked to repair the cars throughout the night.
Also claimed on Friday were DirtFish drivers Sam Albert and Michelle Miller, who rolled on stage 4 after going off near the end of the stage. The roll, Albert's first in a decade of competition experience, happened after an issue in the brake bias adjuster caused the car to both lose brakes and open the throttle simultaneously. A gentle roll that caused minimal damage thanks to soft underbrush, the car was structurally sound and repaired for Saturday.
Higgins and Drew, running second on the road, saw Pastrana's incident from the start line and drove the stage in a more cautious manner. Taking an early lead, the Subaru Rally Team USA drivers worked throughout the day to keep an advantage over Bouffier and co-driver Florian Barral in the Green APU Proto Mitsubishi Mirage, a Mirage body with a rally-prepared Evo X driveline.
Bouffier, a talented WRC driver and winner of several rallies, including Rallye Monte Carlo in 2011, took Friday to get up to speed; the Mirage significantly upgraded since his last drive in it at Oregon Trail in 2016. Higgins seized the opportunity to open a one minute lead on Bouffier by the end of Friday.
Saturday's start saw the return of Pastrana, with a Super Rally penalty time of nearly 45 minutes applied. With nothing to lose, the 2017 champion put on a champion's drive, taking stage wins on 6 of the day's 8 tests. Bouffier's pace also continued to increase throughout the day. By Saturday's final stage loop, he had beaten Higgins on two stages and tied him on a third. But for Bouffier, the mountain was too large to climb, and Higgins won Ojibwe by 1m:52s.
With both DirtFish cars out for Friday, Jeff Seehorn and Karen Jankowski opened a large lead in the Limited 4wd class over returning drivers Nick Roberts and Scott Putnam of CPD Racing. Ojibwe was the first rally event in two years for Roberts, and the first since last year for Putnam. The former championship rivals teamed up to make the comeback, though they did so without expectation of a podium finish. But with both DirtFish cars out on Friday, the team found themselves holding second place to end the day. It was a position they would hold to finish the rally as Seehorn opened a larger gap to extend his lead and finish third overall, his fourth overall podium finish this season.
Repaired overnight, the DirtFish cars re-entered for Saturday's stages under Super Rally Rules, taking a time penalty, but not so large as to make a points finish unattainable. Both drivers would push throughout the day to make up position. After a standout drive, Albert managed to return to the podium, finishing third in class.
Current Naturally Aspirated 4wd points leaders Blake and Tricia Lind of Primitive Racing made the trip to Ojibwe from the Pacific Northwest in hopes of earning national championship points to extend their lead. The team put on a typically fast drive, until contact with an embankment on stage 6 resulted in a debeaded tire that necessitated an on stage fix, costing the team 5 minutes. Though it didn't affect their national position, the tire change gave the regional win for Friday to TJ Pullen and Erin Kelly. Lind and Lind finished Ojibwe without further incident to take their class win.
TJ Pullen and Erin Kelly decided to take the chance and make the push to Ojibwe after realizing that a first place win would secured the NA4wd regional championship. The Pullen Away Rally Team turned to social media for funding help, opening a crowdfunding campaign and taking donations of cash, tires, and other car components. The true community effort allowed Pullen and Kelly to win the NA4wd regional on Friday, giving them the necessary points to be crowned ARA East NA4wd Champions.
Open 2wd class was a battle of strategies, Seamus Burke and Martin Brady came to push hard on every stage for the rally win, while Erik Potts and Claudia Barbera-Pullen focused on clean driving to maintain their championship lead. A typically fast drive for Burke and Brady lead to several close calls on the twisty Ojibwe roads, once striking a sponsor signpost, and later making hard contact with an embankment on the outside of a corner. The JRD V6 MKII Escort managed to avoid damage on both occasions and go on to take its third win in a row.
Potts and Barbera-Pullen took a more calm and measured approach. One that minimized sliding and wheel-spin in a calculated play to take second in the class. The effort paid off, and the team stood on the second podium spot, a position good enough to keep a strong class lead in the championship.
Third in the Open 2wd class were Keanna Erickson-Chang and Rhianon Gelsomino, a position they inherited after the retirement of the K20 swapped Honda CRZ run by Colin Robinson and Ricardo Gonzalez of the Honda Maxxis HPD Rally Team. Erickson-Chang and Gelsomino struggled with Friday's lack of grip, but with improved conditions later in the event, picked up the pace and earned a their podium spot.
Next up for the American Rally Association is a round to look forward to, Idaho Rally International, Sept. 15-16. The 150 mile course will be run as a national event for the first time in its history. Idaho will also be ARA's inaugural UTV round, so we get to see just how fast Side-by-Sides really are in a rally environment.
Photo Credit: Alex Wong
About American Rally Association (ARA)
A member-driven organization dedicated to the sport of Stage Rally, the American Rally Association provides a transparent, inclusive, and growing sanctioning body to competitors throughout America. A 501 (c)(3) non-profit and wholly owned subsidiary of the United States Auto Club (USAC), ARA is led by seasoned Stage Rally professionals who work hand in hand with an experienced Board of Directors to deliver a framework for safety, competition, promotion, and education for all aspects of the sport. The common goal of our members, volunteers, and organization is a thriving Stage Rally program in America.