06 Aug

Muscatell Ojibwe Forests Rally Going Back to Basics and Focusing on the Drivers for 2018

Article originally written for American Rally Association website here.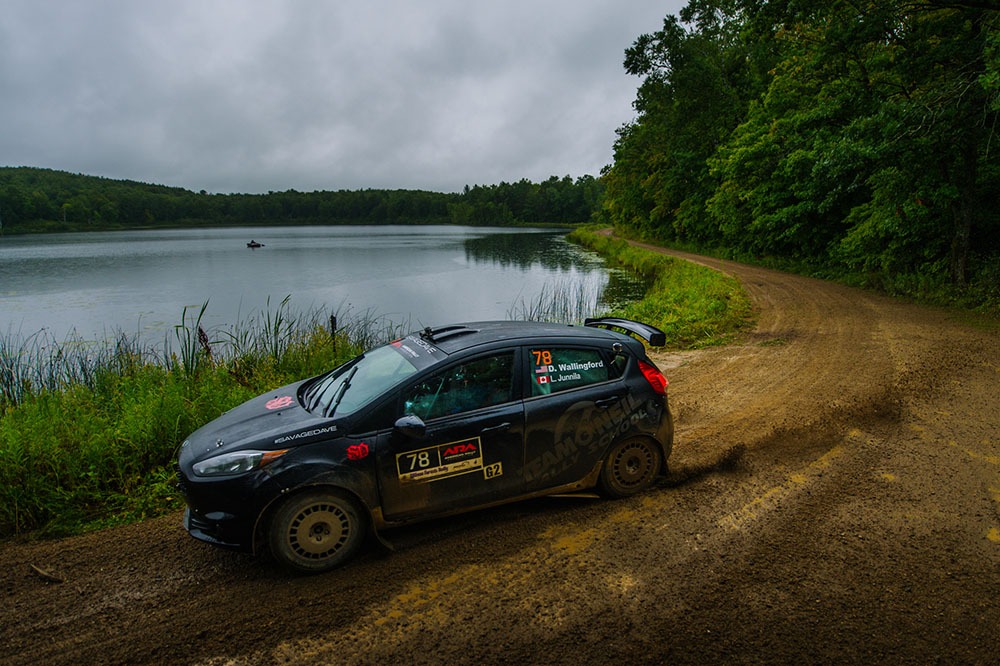 Detroit Lakes, MN (August 6, 2018)
Jonathan Atkins, Chairperson of the Muscatell Ojibwe Forests Rally, is taking the 2018 event back to the sport's roots to focus on the driver and fan experience. His directives; a simplification of the rally route, greater opportunity for spectating, and more fun for all involved.
"When we started planning this year's event, I asked the committee, 'what got us all into rally?'," said Atkins. "My answer to that question is two people, one car, at speed in the woods. Because that's what really got me hooked into rally, seeing the car control and how good these drivers are at the various levels. I wanted to bring it back to that, to say let's go back to the basics. Let's go back to what brings people into the sport."
When speaking with rally Organizers following previous year's events, Competitors asked for more time in the forest and shorter stages. They also gave mixed reviews of the super special stage in Detroit Lakes. As a result of those conversations, Atkins has thrown out the rundown in 2018 and the Ojibwe organizers have come up with a new route for this year.
The 2018 Muscatell Ojibwe Forests Rally will feature a leaner schedule, a drop of the Detroit Lakes street stage, and an emphasis driver enjoyment. 132 stage miles, many of them not seen in several years, will contain an even mix of fast flowing roads and tight technical stages. Competitors can also look forward to the return of the rally's staple Crossroads stage and it's jump through the Red Bull arch; that's a good for fans too. With the new super special stage at the Becker County Fair in Detroit Lakes, fans will get even more opportunity to see the cars.
"I wanted to bring Ojibwe back to being a driver's event," said Atkins. "I wanted to make it better for the drivers and we're doing that with shorter transits and better stages. If it's a good fun race that has a mix of flowy and technical, it's going to be challenging in areas and just smooth and fun in others. That what I think of when I picture a driver's event.
"The drivers will enjoy it and have fun when they're out there doing it. When they're doing well and happy, that translates to how they're driving and that, in turn, is more exciting for the fans."
Last year, Ojibwe had several stages in excess of 15 miles. These roads, described by some as gravel highways, have been cut out for 2018. In place of these massively long single stages, this year's event will feature several higher quality shorter stages slinked together in a straightforward manner. The rally is built around good and flowing stage loops, versus the more disconnected layouts of previous years.
"When there's a logical progression to the stages within a single loop, it's easier for the competitors to stay on track and know where to go for the next stage. It's easier to follow the route book, and recce is a more streamlined process. The new loops are geared towards keeping the event fun, keeping it simple."
While the event does still have some longer transits to and from Detroit Lakes, Atkins believes that the simplified stage loops and exciting new stage roads will provide enough incentive to run them. The Ojibwe organizers have worked hard to ensure that the few long transits only exist to get teams to the stages and that the transits between stages within a loop are short.
"We have some longer transits, which I know the driver's don't care for," said Atkins. "So after a long transit, we made sure to have some really good stage miles, which are fun to drive. The competitors have good roads to look forward to when they're driving out and on the way back we hope they can say it was worth the extra time getting out there."
In the spirit of helping competitors have a good time, Ojibwe recently announced a permanent extension of early registration pricing. The rally will keep early entry pricing in effect until recce registration on the 23rd.
The final event of the ARA East Championship and fifth rally in the ARA National Championship Series will see some great battles on stage. With this discount pricing extension, even more teams in the championship fights will have the opportunity to enter and duke it out.
"With this being the start of the second half of the competition season, we made the decision to keep the same entry fee and not raise it. We're making it easier for competitors to enter, and we can keep everyone on the same playing field in terms of event expenditures."
Atkins is also applying his back to basics philosophy off the stages with all aspects of Ojibwe's promotion. A minimalist event poster and ad campaign for the event, along with a 'tastefully simple' volunteer and event t-shirt, are physical items that represent the thought process in planning Ojibwe."
"We're not going crayons on construction paper simple, but we are going with a modern and clean aesthetic. Our poster this year is a very prominent photo of a car to draw people in before they read the text to learn about the event. That's opposed to big splashy text everywhere and ohh look there's a car back there somewhere. We've gotten a lot of good responses to that marketing this year and it's opened up some conversations with local people in the Fargo and Detroit Lakes areas. They're excited to come and check out the event."
Under a fresh eye, Ojibwe organizers inspected the rally route this past weekend and Clerk of the Course Greg Messler describes the stages as the best stages he's seen in years. The road conditions are reported to be exceptionally smooth and fun to drive. So come out and have a good time whether you're a driver or a fan.
The 2018 Muscatell Ojibwe Forests Rally takes place in Detroit Lakes, Minnesota from August 24-25. More information, including how to enter or spectate, can be found on the Ojibwe and ARA websites. Also be sure to follow Ojibwe and ARA on Facebook to keep up with rally news.
Photo Credit: Alex Wong
About American Rally Association
A member-driven organization dedicated to the sport of Stage Rally, the American Rally Association provides a transparent, inclusive, and growing sanctioning body to competitors throughout America. A 501 (c)(3) non-profit and wholly owned subsidiary of the United States Auto Club (USAC), ARA is led by seasoned Stage Rally professionals who work hand in hand with an experienced Board of Directors to deliver a framework for safety, competition, promotion, and education for all aspects of the sport. The common goal of our members, volunteers, and organization is a thriving Stage Rally program in America.