27 Apr

DirtFish Olympus Rally: First Loop Report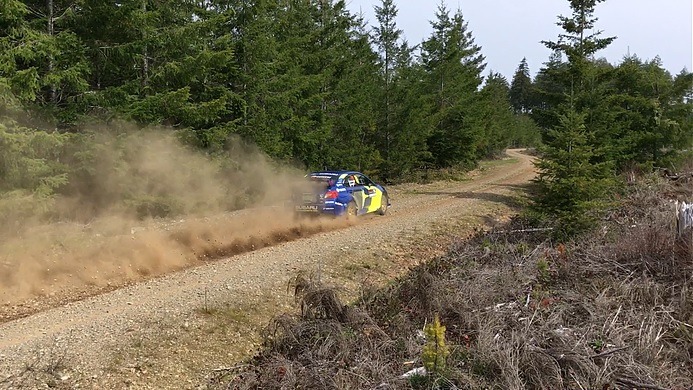 Article originally published on American Rally Association site here.
Shelton, Washington (April 27, 2019)
The first loop is complete at the DirtFish Olympus Rally and several big shakeups have been fit into its 25 stage miles. Several drivers are reporting that the stage surface has become very loose and that the sharp gravel is making their tires wear at an accelerated rate.
David Higgins and Craig Drew of Subaru Motorsports USA lead DirtFish Olympus Rally after 2 stages and 25 miles by 4.6 seconds over teammates Oliver Solberg and Denis Giraudet. The leading Subaru WRX STI required two new tires after wearing out their soft compounds quickly.
Three minutes behind the leaders are Piotr Fetela and Dominik Jozwiak in their Proto Ford Fiesta. The pair lost time after an early spin, but the car is still in one piece.
Fourth Overall after the first loop and 20 seconds back from Fetela Rally Team are Seamus Burke and Martin Brady of McKenna Motorsports. The team is starting to get up to pace in the M-Sport Ford Fiesta R5 as Burke learns the quirks of the 4WD car. A further 30 seconds back from Burke are Dave Wallingford and Leanne Junnila, also in a Fiesta R5. The pair rounds out the top 5
Big shakeups at the front of the field started the day in the forests of the Olympic Peninsula.
After taking a 1 second lead on Stage 1, Dayton, Barry McKenna and Leon Jordan suffered a big off on the day's second stage. The pair are reported be OK, but are being examined by medical teams as a precaution. They will retire from the event, due to the damage their M-Sport Ford Fiesta S2000 Turbo has suffered.
Jeff Seehorn and Karen Jankowski of the AMSOIL Seehorn Rally Team started the day with an off on Stage 1. The impact damaged their rear suspension on their 2016 Subaru WRX STI and forced them to skip Stage 2, Stillwater. The team plans to repair the damage and head back out under Rally Restart Rules.
Another shakeup in the Limited 4WD class, Travis Nease and Rebecca Ruston suffered an engine failure on Stage 1 and were forced to retire.
Unofficial results from the first loop of DirtFish Olympus Rally 2019 can be found by clicking here. Remember to follow Olympus live at live.americanrallyassociation.org and through the official #ARARally App. We'll have a full recap of the day's action tonight at 8pm PT on FloSports.tv.
Here's what several drives had to say about the Saturday's first loop:
Craig Drew (Subaru Motorsports USA) – Yeah it's so rough the stages, a lot of rocks, a lot of abrasive road to drive on. So I don't it matters what type of tires you're on they're going to wear really hard. Obviously with the temperature picking up as well, we're expected to get a lot worse on the second run. But, you know, it's very much a case of self-preservation right there trying to pit your way through the rocks, you're not necessarily always on the optimum line, but it's a long rally, we've only done 24 miles out of 135 so got a little bit of a lead now but that means nothing on this rally at this stage. So we'll just keep pushing.
Piotr Fetela (Fetela Rally Team) – I had some mistakes on first stage and lost some time, but it was my mistake. What slowed me down was huge rocks on the side of the road behind these cars [Subaru Motorsports USA]. So I tried to slow down, not hit anything, not get flat tires; I don't want to break the car. But we go on and do our job.
Martin Brady (McKenna Motorsport) – The first loop was okay. I mean we're here, some people aren't unfortunately. Our teammates Barry and Leon that aren't here. But yeah, we're getting on alright. Been some issues with the brakes, but not having much confidence; I don't really know we might change to a different pad. We're maybe on pads too aggressive and we're maybe overusing them because of that fact. So we're coming to the end of the stages and losing the brakes, which is dropping us a bit of confidence. But I think we're doing okay, our times aren't that far away and we've got to remind ourselves that we've only done two stages in this car. So it's very new to us, we also have to remind ourselves to just sit back and enjoy it because it's a fantastic piece of machinery and it's very different from what we're use to. So we're enjoying it at the same time.
Brandon Semenuk – It was alright, a little dusty on the first loop. We ended up catching a couple cars on the first stage and got kinda stuck. Lost some time there but, the second stage was pretty good, you know pretty smooth, a decent time for the side-by-side. So hopefully we can improve on the first stage of the next loop.
Krista Skucas – You know, it's alright. The first stage we lost the hose for the turbo. It was less than a mile in I think, so those long uphills were pretty torturous. We actually ended up pulling over and turning the car off and back on. The IT trick. It didn't seem to help, we didn't know what exactly happened, we just knew we didn't have turbo and we lost a solid minute at least on that. And the second stage went really well, it's a little bit looser than we expected. And found that edge of the road but it was totally fine, and made up a little bit of time on the people we have our eye on. Fun fun, lots of rally to go to make up that minute we lost.
Matt Dickinson (El Diablo Rally Team) – The new car is holding up great, it's fabulous, it's fun, getting use to it. Only had about 30 minutes of seat time in the car, and I've never driven it over, like, 60 miles per hour. So it's a learning process still, but it feels great, that thing absolutely rips. It's nice to know the last 3 months of late nights and no free-time paid off, but yeah, super excited.