26 Apr

David Higgins and Craig Drew win Oregon Trail Rally

Originally Posted on Rally-America.com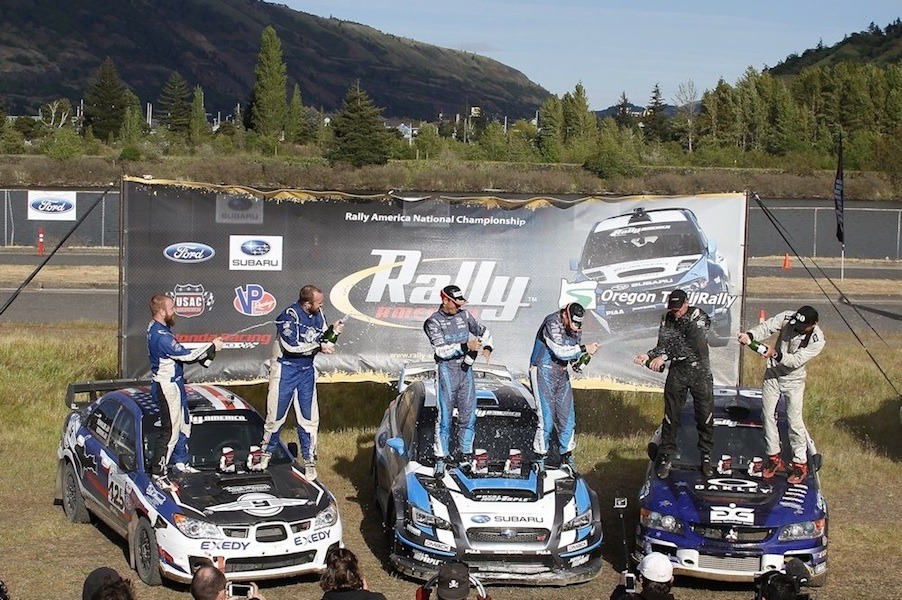 HOOD RIVER, Ore. (April 26, 2015) – With a win this weekend at the Oregon Trail Rally, Subaru Rally Team USA's David Higgins and Craig Drew made it three in a row for Subaru Rally Team USA and now have a commanding lead in the Rally America national championship.
"It's been a tough event," said Higgins at the finish. "The stages are demanding and it's a challenge right through to the end. Today's stages are some of the most technical stages in the States, and it was super tough, to be honest. You've got to keep concentrating, because you can't afford to back off anywhere."
Engine trouble early in the rally saw Higgins and Drew pushing hard to keep up the pace as challengers Adam Yeoman and co-driver Jordan Schulze crept within 20 seconds of the leaders in their FY Racing Subaru WRX STI. The Subaru Rally Team USA crew performed an engine swap overnight on Saturday to return the team to full speed by the final day of the rally.
"The key for me is you've got to learn to drive around problems," Higgins said. "Winning rallies and winning championships is all about making the best out of the bad situations, keeping your head down, concentrating, and enjoying it, because that's the main thing: if you can drive through it all with a smile on your face it makes it a whole lot easier."

Yeoman and Schulze finished second overall to gain a much-needed result for the team. FY Racing has had a tough start to 2015, with a pair of DNFs to open the season. The podium result puts them back in the hunt for the Rally America championship.
"It's what we've been pushing for all year," said Yeoman, who also earned a pair of outright stage wins on Saturday. "We've been pushing the pace and pushing the car. Those fast stages suit me."
They had a nervous moment on Sunday when an electrical gremlin struck their competition car and they returned to the midday service on the end of a tow rope behind David Sterckx's Subaru. The FY Racing service crew was able to diagnose and repair the problem within the allotted 70 minutes for service and they finished the day without incident.
Rounding out the podium were George Plsek and co-driver John Hall, who brought their Mitsubishi Lancer Evolution to a third place result. "I have to break up the Subaru parade a little bit," said Plsek on Sunday. "There have been all these Subarus on the podium and it's good to get another make of car up here."
Lauchlin O'Sullivan and co-driver Scott Putnam took the Super Production class win in their 2009 Subaru WRX STI with a fifth-place overall result. "Oregon came back and paid us back on this one because it's been a couple years: I've had some really bad luck here," said O'Sullivan. "I'm very happy with the result, obviously, and it's great news for the championship: we're leading the championship now."
Troy Miller and co-driver Ole Holter were fastest in two-wheel drive, bringing their Ford Fiesta R2 home in seventh-place overall. James Robinson and co-driver Brian Penza extended their B-Spec winning streak with a class win in their 2015 Honda Fit.
The rally lived up to its reputation as a battle of attrition, with a number of leading competitors out early.
Sterckx and co-driver Renaud Jamoul suffered an engine failure Sunday afternoon in their 2011 Subaru STI. Also out of contention Sunday were Nick Roberts and Rhianon Gelsomino. They had been leading the Super Production class and sitting in third overall when they lost a hose fitting to the oil cooler in their Super Production Subaru WRX STI on Stage 14 and were unable to finish the rally.
Two-wheel drive favorites Chris Duplessis and Alex Kihurani also scored a DNF with engine failure in their 2013 Subaru BRZ.
With a total of 18 stages and more than 115 competition miles run over three days, the Oregon Trail Rally tested teams to the limit. Next, the Rally America championship moves to Shelton, Wash., May 16 to 17 for the Olympus Rally.
"I'm looking forward to the new stages in Washington, because Olympus will have roads I've not been on before," said Higgins. "It's like a fresh event."