15 May

David Higgins and Craig Drew win Olympus Rally

Article written for American Rally Association here.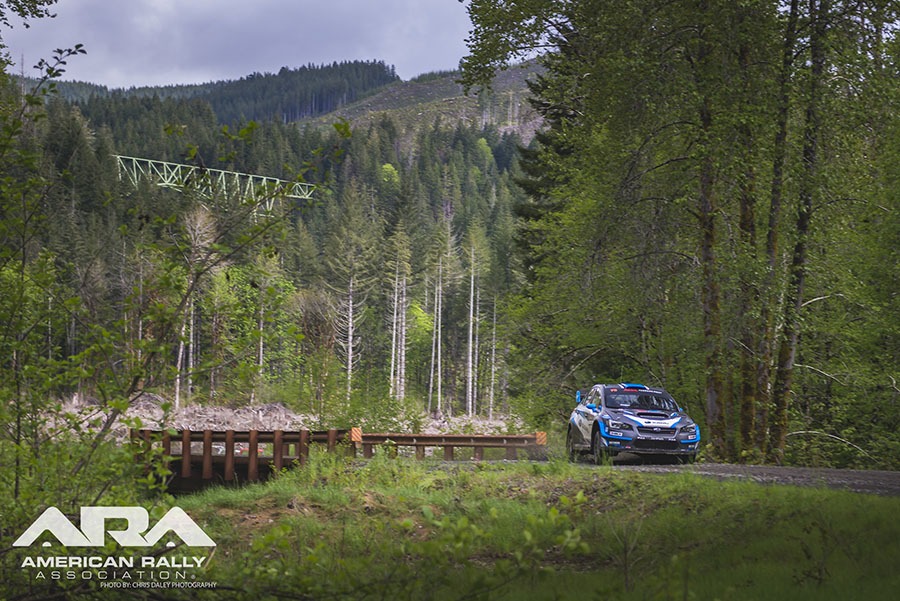 Shelton, Washington (May 15, 2017)
David Higgins and Craig Drew take their second win of the 2017 season at Olympus Rally, decidedly beating Travis Pastrana after 139 miles of long, wet, and challenging stages. The victory sees Higgins retake the points lead over teammate Travis Pastrana in the championship standings.
"It was a tough rally," said Higgins, "the hard thing with this round is there are very very fast sections and then you get into real narrow technical ones. So it was hard to change your pace accordingly as the stages change, but we seemed to find a good rhythm."
The weather was in constant flux this weekend, with sudden downpours changing stage roads from dry to muddy at the drop of a hat. Higgins took best to the varying conditions, opening a 30 second gap to Pastrana by the start of Saturday's first service and by day's end that gap had grown to nearly a minute. Pastrana's principal struggle on Day 1 was a single stage run twice, Wildcat Pass. Pastrana dropped a total of 49.5 seconds to Higgins on the twisting 18 mile stage, citing issues with his pace notes as the cause.
Sunday was much the the same story as the day before. Higgins continued to extend his lead through much of the day, but nearly lost the rally on the final stage when a rear suspension arm broke on the car. Though crab-walking, Higgins managed to bring the car home 2 minutes and 10 seconds ahead of Pastrana, securing the win.
"It felt like Rally GB, except without the fog, a lot of changing conditions. I think David did a much better job than I did of adjusting to that," said Pastrana, "It was a good rally, just disappointing to get our butts kicked by that many seconds."
Third on the Overall and Open class podiums were Barry McKenna and Leon Jordan in their Fiesta S2000 Turbo. Olympus represents McKenna's first full rally behind the wheel of the car, as engine issues caused him to retire early at Oregon. The Irish drivers spent most of Olympus getting up to pace, treating the rally as an extended testing session where the only goal of finishing. McKenna was stunned by the speed he could carry, "the car is unbelievable," said McKenna, "definitely a big learning curve."
Even with the cautious pace, McKenna and Jordan handily secured their podium spot, finishing 10 minutes ahead of their closest competition and 3 minutes behind Pastrana. The pair are now growing in confidence and hope to spend the rest of the season improving on the performance.
"God loves a trier and we're gonna keep on pushing," said Jordan, "so hopefully, some day, we're gonna be in the mix with em. [Subaru]"
Rocket Rally teammates David Nickel and Brandon Semenuk spent Saturday in a tight battle, finishing the day separated by 25 seconds. Both drivers brought their Subaru Crosstreks to bear, making this fight an even battle between drivers. The teammates continued their competition into Sunday, until Semenuk had an off, costing him 20 minutes and the fight.
In Restricted Open 4WD Travis Nease and Krista Skucas scored their first ever rally win, out lasting George Plsek and Jeff Seehorn on the Olympic Peninsula. The pair were the only RO4WD entry to run a trouble free rally, proving the adage – to finish first you must first finish.
"The plan from the beginning was just driving easy, "said Nease, "our notes were fantastic until the last stage or two, it just got so slippy out there. So we just dialed it back and brought it home. Wow it's so awesome, feels great."
George Plsek and Alex Kihurani ran into trouble early in the rally. On Saturday's second stage, Plsek's Evo blew off it's charge pipe, causing a loss of boost and triggering the car's limp mode. Unable to affect repairs in the field, the pair struggled through the first loop and came into service 3 minutes behind Nease and Skucas. Plsek spent the rest of Olympus Rally taking time out of Nease; but ultimately could not overcome the deficit, finishing nearly 2 minutes behind Nease.
Local favorites Jeff Seehorn and Karen Jankowski continued to have engine troubles this weekend. After finishing Oregon with bent connecting rods, Seehorn Rally Team tore down the motor and performed a ground up rebuild; entering Olympus with, essentially, a brand new engine. The pair ran strongly at first, finishing the long and twisty Wildcat Pass stage within a minute of Barry McKenna in the Fiesta S2000 Turbo and entering Saturday's first service holding a commanding lead in RO4WD. That lead ended halfway through the day's second loop, when the timing belt on Seehorn's motor snapped, ending his rally. Thankfully, the damage was confined only to the belt itself, and Seehorn quickly replaced the part. The pair reentered Olympus on Sunday as a regional competitor.
In the American Rally Association there is no Super Rally rule, if you fail finish Day 1 you are out of National competition. That detail didn't stop Seehorn and Jankowski from fixing the problem and finishing second in Sunday's Ray Damitio Regional rally.
In 2WD the competition was close. Ryan Millen and Rhianon Gelsomino continued their championship fight against Cameron Steely and Preston Osborn. Millen came into Olympus with the championship lead, and Steely knew that he had to strike. Unfortunately, Steely's Fiesta ST didn't agree with the notion and sheared a halfshaft early on Saturday. Choosing to not re-enter as a regional, Steely packed it up early.
But the challenge for Millen and Gelsomino was far from over, Derik Nelson and Jason Grahn in a Subaru BRZ proved to be close competition for Millen and Gelsomino. The two teams traded stage wins throughout Saturday and finished Day 1 of Olympus a mere half second apart. "We're always in a dogfight," said Millen, "every single rally I go I'm always trading seconds with somebody."
The close competition continued into Sunday, with Nelson taking 10 seconds out of Millen in the day's first stage. But the day wasn't to be for Nelson, on Sunday's second stage the transmission in the BRZ blew, ending his rally. Nelson was disappointed with the result, but highly enjoyed the competition with Millen.
Second place in 2WD was inherited by Dave Wallingford and Leanne Junnila, who finished Olympus holding that position. Steven Redd in the Nameless Performance BRZ also had issues this weekend, his rally ended on Sunday when a broken steering arm sent the car off course.
Production 4WD was a class of one this weekend, and that one was local favorite Tino Fortunato and co-driver Chris Kremer. Fortunato's entry was exceedingly last minute, entering at 11pm the night before recce and arriving to pre-rally tech inspection with only the front clip of his car wrapped in a livery. Tino is known for driving the doors off, and he did just that at Olympus. Despite several close calls, Fortunato and Kremer brought the car home in, mostly, one piece.

That's it from the Pacific Northwest for the American Rally Association. Next up, ARA goes transcontinental, traveling to the Northeast United States for the Susquehannock Trail Performance Rally. STPR runs June 2-3 in the forests near Wellsboro, Pennsylvania. We hope to see you there.

Full Results:
Photo Credit: Chris Daley, Chris Daley Photography
About American Rally Association (ARA)
We are a member driven organization dedicated to the sport of stage rally by providing a transparent and inclusive sanctioning body. A 501 (c)(3) non-profit, ARA is lead by elected and appointed board members who deliver a framework for safety, competition, promotion, and educational forums for all aspects of the sport. The common goal of our members, volunteers, and organization is a thriving stage rally program in America.