20 May

Barry McKenna and Leon Jordan lead dusty Olympus Rally heading into Sunday

Article originally posted on American Rally Association website here.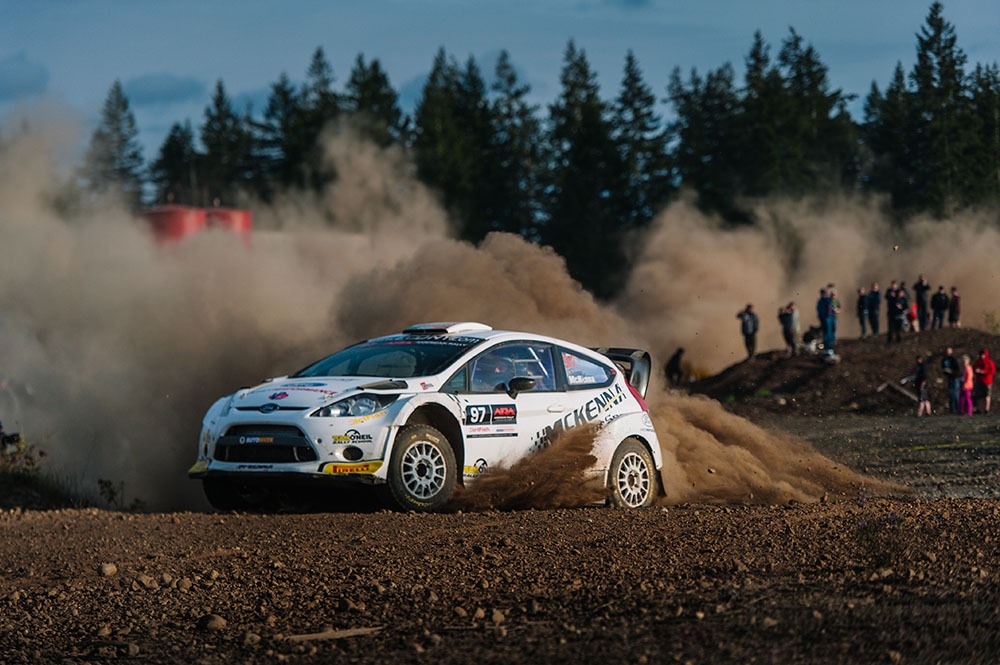 Shelton, Washington (May 20, 2018)
Day 1 of Olympus Rally is in the books and Barry McKenna and Leon Jordan currently lead the event heading into Sunday. Subaru Rally Team USA's Patrik Sandell and Per Almkvist hold onto second place, just over a minute back from the rally leaders with Jeff Seehorn and Karen Jankowski rounding out the podium positions in third.
Road conditions were as dusty and rough with the hanging clouds causing visibility issues for several competitors and large pot holes causing a multitude of punctures and incidents of suspension damage for vehicles. Attrition has taken hold, with nearly half of the field, including several high-profile entries, failing to finish the day.
Barry McKenna and Leon Jordan lead Olympus Rally after 8 stages and 71 miles of competition. The pair started the day with a stage win and later capitalized on mechanical issues which affected both Subaru Rally Team USA machines to earn a one minute six second lead by the end of Saturday's stages. The day marks the pair's first lead at an ARA rally event, and they're well on pace to potentially earn their first event win.
Patrik Sandell and Per Almkvist started the day with trouble. A gearbox failure saw their 4wd Open car become a front-wheel drive O2wd vehicle on the day's second and longest stage, the nearly 19 mile Wildcat test. Struggling to keep the pace with only front drive, the pair were caught on stage by McKenna and Jordan. All told, the mechanical troubles cost them three minutes, but Sandell and Almkvist fought back later in the day to take back second in class.
Third overall and first in the Limited 4wd class at the end of Day 1 were Jeff Seehorn and Karen Jankowski in their Maxxis sponsored Subaru STi. A familiar spot for the pair, Seehorn is committed to chasing overall podiums and championship points this season. But the day was not without some struggles. After fighting some motor issues early on, the team seemed to be in the clear. But then, in a strange twist, Seehorn punctured a tire with a railroad spike on a transit midway through the day. The inch-square nail went clean through the tire's sidewall and was changed without incident.
David Higgins and Craig Drew did not finish the first day of Olympus. The championship leaders had a tough day, starting with a flat on Stage 4, the second pass of Wildcat. With nearly 10 miles left in the stage, the pair elected to pull over and change the tire, costing them three minutes. But their troubles weren't over, on the next stage, Kuhnle, the pair had an electrical light come on the dash and a subsequent loss of engine power. The cause was an alternator failure which forced their retirement from the day. They plan to renter for Sunday, but with a large time penalty, under Super Rally rules.
Also making a tough tire call on Wildcat were James Rimmer and Rhianon Gelsomino. The pair suffered a puncture halfway through the stage, but unlike Higgins and Drew, elected to not stop, but to finish the stage on the flat. Though successfully completing the stage, the tire delaminated from the stress and wrapped it's carcass around the rear drive components of Rimmer's Rocket Rally Subaru STi, breaking it and ending their day. They will also return for Sunday under Super Rally rules with an associated time penalty.
Sitting fourth overall and third in Open 4wd class are Canadian Rally Championship runners up Brandon Semenuk and John Hall. The pair haven't had seat time since the end of the CRC series last year, so much of the morning was spent knocking off the cobwebs. Semenuk was happy to be back in his groove by the end of the day.
DirtFish drivers Sam Albert and Michelle Miller started the day eager to test their freshly rebuilt Subaru STi and current sit fifth overall and second in the Limited 4wd class. Last time out at Oregon, the pair didn't have the opportunity to stretch their legs before a mechanical failure took them out of the rally. This weekend, they're up to speed and on the pace in class, matching, and even beating, Seehorn on several stages. With a several minute gap to first in front and an equal gap to third behind, Albert and Miller will be looking for a reserved drive on Sunday to bring home second in Limited 4wd and the championship points that come with it.
Sitting sixth overall and third in Limited 4wd are rally newcomers Matthew Dickinson and Daniel Piker. Last months Oregon Trail Rally was the pair's first rally together and Piker's first rally ever. Consistently improving their pace with every passing stage, Dickinson and Piker currently have a firm grasp on the class podium and closing the time deficit to the leading teams.
Travis Nease and Caron Tomlinson had a tough day. The Limited 4wd podium favorites finished Stage 1 like they were playing Dirt Rally, sideways and sliding off the road a literal 5 yards after flying finish. Unable to drive the car out, they were forced to wait until after the stage to be pulled out. With no damage to the car, the pair continued with their rally with only time penalties for late control check ins.
Naturally Aspirated 4wd class is having one of the closest rally battles in recent memory. After the day's 71 stage miles only 1.4 seconds separates Andy Miller and Shaun Tracy from Blake and Tricia Lind. The fight went back and forth throughout Saturday, with one team taking several seconds, only to lose them on the subsequent stage. Never more than a few seconds apart on a single stage, the two rival teams finished the 19 mile Wildcat II stage a mere three tenths of a second apart! That's sixteen milliseconds per mile difference. Expect this battle to stay close throughout Sunday and the battle to go to the final stage.
Erik Potts and Claudia Barbera-Pullen lead Open 2wd, outlasting all of their competition in class. As the sole surviving national 2wd entry, the pair can now relax and focus on running a steady Sunday to finish the day. But the day didn't start relaxing for the team, a tight battle with Dave Clark and Jamie Willetts early on Saturday put Potts on his toes. Unfortunately, the promising fight was cut short when Clark and Willetts suffered day-ending suspension damage and "wooden steering" caused by a large diameter branch of wood stuck in the car.
An honorable mention to the fastest 2wd cars of Saturday, DirtFish head instructor Nate Tennis is back and driving his Volvo 940 Turbo alongside co-driver Alex Jardevall. Tennis finished Day 1 of Olympus two and a half minutes ahead of National leader Erik Potts. Fighting Tennis throughout the day were local favorites Derek Night and Robert Culbertson in their freshly rebuilt Volvo 242. The pair, also a regional only entry, finished 40 seconds behind Tennis after a close battle.
Photo Credit: Alex Wong (Top, 1, 2, 3, 5), Kelso Pickett (4)
About American Rally Association
A member-driven organization dedicated to the sport of Stage Rally, the American Rally Association provides a transparent, inclusive, and growing sanctioning body to competitors throughout America. A 501 (c)(3) non-profit and wholly owned subsidiary of the United States Auto Club (USAC), ARA is led by seasoned Stage Rally professionals who work hand in hand with an experienced Board of Directors to deliver a framework for safety, competition, promotion, and education for all aspects of the sport. The common goal of our members, volunteers, and organization is a thriving Stage Rally program in America.