22 Mar

AMERICAN RALLY ASSOCIATION 100 ACRE WOOD RALLY: BARRY MCKENNA, LEON JORDAN WIN IN CLOSE FINISH
ARA takes on Missouri, with a trip out west up next
Article originally written for Autoweek website here.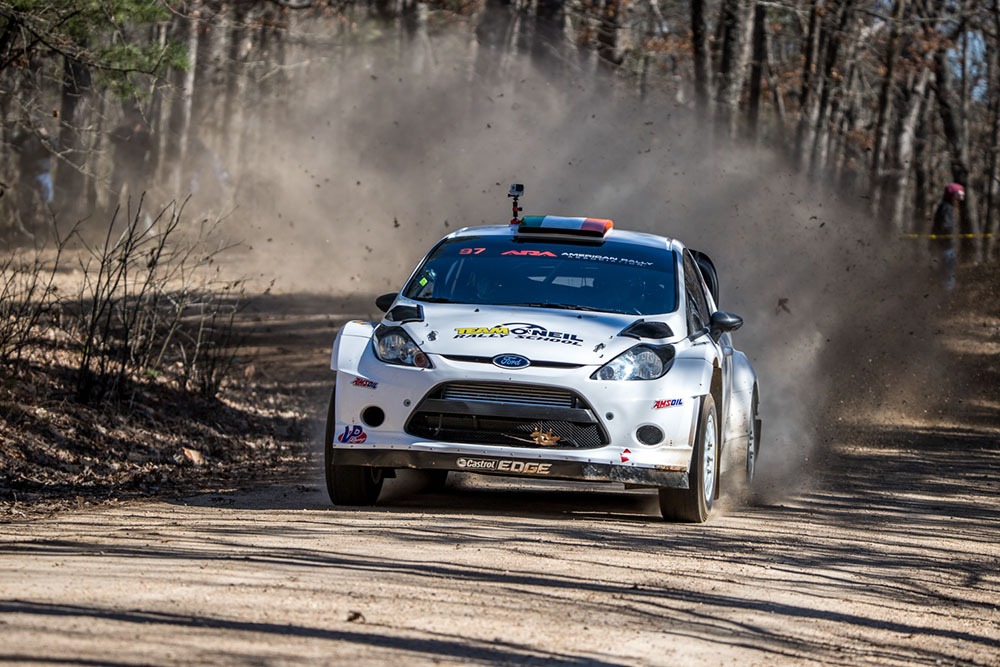 This year's 100 Acre Wood Rally was one of the most exciting U.S. rally events in years. A star-studded field of 75 teams from around the world descended on Missouri this past weekend to take on round 2 of the American Rally Association championship.
Barry McKenna and Leon Jordan of McKenna Motorsports won the 2019 100 Acre Wood Rally in an incredibly close finish. The M-Sport Ford Fiesta S2000 Turbo drivers bested U.S. rally newcomers Oliver Solberg and Aaron Johnston of Subaru Motorsports USA by a mere 6.8 seconds to earn their first win in American Rally Association competition.
If the Solberg name sounds familiar, that's because Oliver is the son of 2003 WRC champion Petter Solberg, the last man not named Sebastien to win a WRC drivers' title. The 100 Acre was the 17-year-old rally phenom's first in the U.S. as a Subaru factory driver and, believe it not, his first time driving a 4WD car on gravel.
Other close battles were fought up and down the field, but none more evenly matched than in the Open 2WD class. Lexus IS350 drivers Mike Hooper and Claudia Barbera of River City Rally brawled the entire weekend with 2018 O2 champion Seamus Burke and Darragh Mullen in their JRD Rallysport USA prepared V6 MKII Ford Escort.
The 100 Acre Wood Rally saw teams tackle 125 miles of competitive stages March 15-16 in Missouri's Ozarks region, a forested mountain range 100 miles from the Midwest city of St. Louis and 225 miles from Kansas City. Stage mileage was evenly split between 10 stages on Friday and six on Saturday. The rally, now in its 25th year, is known for its high-speed straights, deep water crossings, extreme elevation changes and the famous cattle guard jump.
Rainy weather in the week leading into the event set the stage — soaked roads, bigger than normal water splashes and rough dried-out sections dotted the racing surface. The conditions made the traditionally fast gravel roads of the 100 Acre Wood Rally tricky to drive by creating unpredictable grip levels, sapping drivers' confidence.
At first, the Subarus had the advantage. The longer wheelbase and slight power advantage made them more stable than the competition in the rally's high-speed sweeping corners. David Higgins and Craig Drew took the early initiative to win six of 10 stages on Friday and earn a 45-second lead by the end of the day, while Solberg and Johnston took wins on a further three of Friday's stages. But Solberg ran into trouble midway through Friday when he clipped a large rock and suffered a tire blowout, dropping a minute and causing minor body damage to the car. McKenna and Jordan took advantage of Solberg's struggles to finish day 1 holding second overall with time in hand. 
The battle between McKenna and Solberg continued throughout Saturday's six stages and 63 stage miles as the two crews traded stage wins behind a leading Higgins. But on stage 14, a big shakeup at the front saw McKenna take on the rally lead and Solberg move up to second as Higgins was forced to stop on stage for five minutes with an electrical issue.
McKenna, in the Ford, entered the final stage loop separated from Solberg, in the Subaru, by 45 seconds with just two stages and 22 miles to the finish. Solberg knew he had to push hard and took 15 seconds from the Ford on the penultimate stage, putting pressure on McKenna. On the final stage, a spin for McKenna nearly ended it all, but a quick recovery saw him cross the flying finish while holding a 6.8-second lead.
The win is McKenna and Jordan's first in the American Rally Association. While they've won stages at nearly every event they've driven and held multiple rally leads in the past, their best drives have been cut short by bad luck until this weekend.
The Open 2WD (O2) class win at 100 Acre was one of the most exciting fights we've seen in ARA. Lexus IS350 drivers Mike Hooper and Claudia Barbera of River City Rally brawled the entire weekend with 2018 O2 champion Seamus Burke and Darragh Mullen in their JRD Rallysport USA prepared V6 MKII Ford Escort.
Neither team held an advantage of more than 30 seconds at any point during the rally as both drove at their limits for 125 stage miles. The drivers jockeyed for position on Friday morning until Burke's Ford Escort lost power steering midway through the day. The advantage went to Hooper, who used the opportunity to take the class lead — a position he fought to maintain for the rest of the rally.
Burke never backed off despite the troubles; he won several stages on Saturday to narrow the gap from 30 seconds at Saturday's start to 16 by the rally's final stage. Burke pushed so hard over the rally's famous Cattle Guard Jump that he damaged his front left suspension on the landing, the front wheel barely staying attached. He finished the last mile of stage road after the incident and transited 15 miles back to the podium to finish second in O2 despite the damage.
With a fourth overall finish, Sno*Drift Rally winners Piotr Fetela and Dominik Jozwiak maintain their ARA championship lead. Fifth overall were RKT Motorsports drivers Paddy Brennan and Matt James. In a career-best class finish with ARA, the Mitsubishi Evo IX drivers won the Limited 4WD class.
While 75 cars started the event, 35 succumbed to the challenging conditions of the 100 Acre Wood Rally this weekend.
Hoonigan drivers Ken Block and Alex Gelsomino turned a lot of heads with their custom Ford Escort Cosworth build called the Cossie V2. They were running fourth overall after the first two stages, but were forced to retire on stage 3 due to an engine failure.
Pat Moro and Ole Holter of PMR Motorsport showed off what quickly became the fan favorite Open 4WD (O4) class LS3 V8 Chevrolet Sonic. Moro said before the rally that he would treat the 100 Acre Wood as an extended shakedown. But even at a controlled pace, Moro still found himself in a battle with Dave Wallingford and Leanne Junnila in the Team O'Neil M-Sport Ford Fiesta R5. Both crews traded stage times throughout Friday, but Moro was forced to retire Saturday morning due to broken tie rods. Even though the team had replacement parts, Moro elected to retire in order to preserve the car and come back with upgraded components. Wallingford and Junnila later retired on stage 14 with a broken radiator after hitting a water splash a bit too hard.
For full national and regional results from the 2019 100 Acre Wood Rally, go to americanrallyassociation.org/2019-100aw-scoring.
With the 100 Acre Wood in the books, next up for the American Rally Association is a trip out west to the DirtFish Olympus Rally. Run outside of Seattle in Shelton, Washington, Round 3 of the National Rally Championship Presented by AMSOIL has a history behind it. A former World Rally Championship round, Olympus gives an opportunity for competitors to drive many of the same rally stage roads that thundered with Group B vehicles in the mid-1980s.
For more information on the American Rally Association, head to americanrallyassociation.org. Interested in seeing the DirtFish Olympus Rally for yourself? Find out how to be a spectator or volunteer for the event at olympusrally.com.