20 Feb

100 Acre Wood Rally Tops 62 Entries

Article originally written for the American Rally Association website here.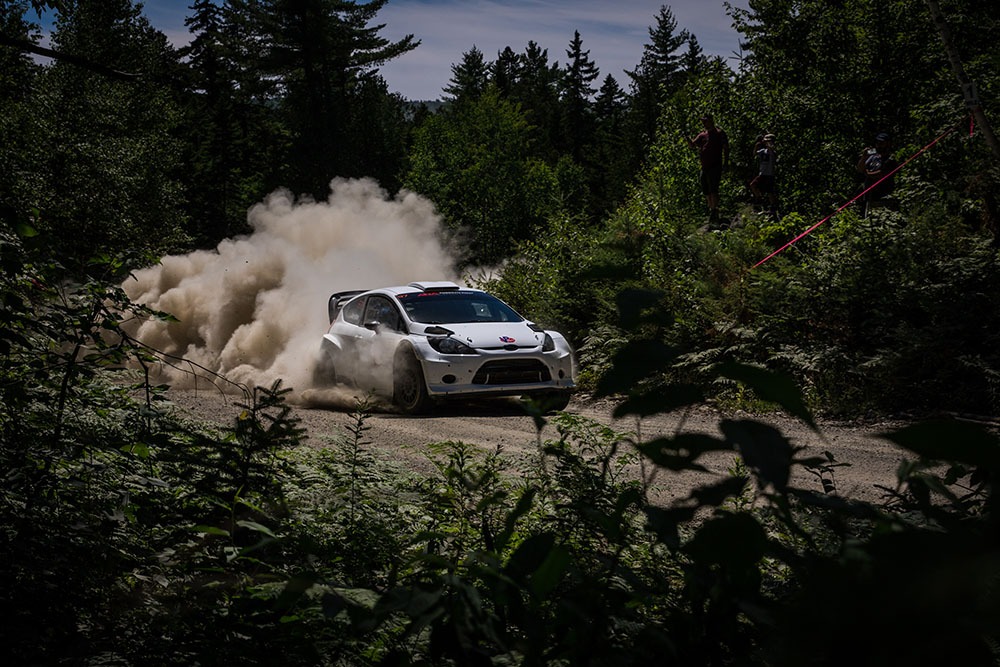 Speedway, Indiana (February 20, 2019)
The 100 Acre Wood Rally is less than a month away and it's already set to be one of the most exciting US rally events in recent memory. 62 crews have signed up, including many of the biggest names in the country.
Round 2 of the American Rally Association (ARA) National Rally Championship Presented by AMSOIL, the 100 Acre Wood Rally will run for the 25th time this year. The towns of Salem, Potosi, and Steelville, Missouri will host the event from March 15-16. The rally is renowned for its mix of high speeds and challenging obstacles; like water splashes, elevation changes, and the famous Cattle Guard Jump. This year's rally will feature 125 miles of competitive stages along a 400 mile route.
A deep depth of talent is signed up to take on the 100 AW this year; 8 drivers are currently registered nationally in the Open 4WD (O4) class, and an additional 7 are set to start in Limited 4WD (L4). 10 national entries for the Naturally Aspirated 4WD (NA4) class represents one of this class's largest turnouts. In the two-wheel-drive categories, 9 teams will battle for the national Open 2WD (O2) podium and 4 more will face off in Limited 2WD (L2).
Let's take a look at some of the names currently signed up to compete:
Subaru Motorsports USA will bring a two car effort, the #75 of David Higgins and Craig Drew will start their title defense while ARA newcomers Oliver Solberg and Aaron Johnston show off their pace. Historically, 7-time 100 Acre Wood Rally winners Ken Block and Alex Gelsomino have the advantage at this event – they'll be back with a brand new Ford Escort Cosworth. The trip to Missouri will kick off the Cossie World Tour, an international challenge that will see the Hoonigan team compete on three continents.
Sno*Drift Winners Piotr Fetela and Dominik Jozwiak are signed up for next month's event and looking for back-to-back wins. While Barry McKenna and Leon Jordan have entered their venerable Ford Fiesta S2000 Turbo for their first 100 Acre. Keeping with the theme of engine swaps, Pat Moro and Ole Holter will be behind the wheel of the LS3 Chevrolet Sonic for its competition debut. We're also happy to see that Dave Wallingford and Leanne Junnila will be back in their Ford Fiesta R5 for the first time since Wallingford's back injury at Rally Mexico in 2018.
The L4 class is shaping up to have a similar level of competition to its top-spec counterpart. Jeff Seehorn and Karen Jankowski will start the hunt for their third ARA class championship at 100 Acre in their freshly rebuilt Subaru STI.
Competing against them will be Sno*Drift second overall finishers Cameron Steely and Preston Osborn and third overall driver Travis Nease, this time sitting alongside 2017 class champion co-driver Scott Putnam. His co-driver from Sno*Drift, Matt James, will be back in his usual Mitsubishi Evo alongside Paddy Brennan. 2018 100 Acre second overall finishers Tim Rooney and Anthony Vohs will make this class a five-way brawl.
In the NA4 class, championship winning drivers Dave and Mike Brown will make their ARA debut next month 100 Acre. Several Missouri Ozark Rally competitors are registered for 100 Acre, including Ryan and Rachel Rethy and second overall finishers Travis and Kendal Clark, though the latter are registered regionally. Sno*Drift podium finisher in the class Mike Engle will also be making the trip south to Missouri. As is Amanda Skelly, this time with co-driver Sarah Freeze.
In O2 we'll see a rematch of Sno*Drift podium finishers. Shawn MacDonald and Jonathan Cannis won the class at last month's event and finished just off the national podium; they'll be back with the "Punisher" Honda Civic. Runners up Brad Morris and Doug Nagy will be looking for another podium in the Mitsubishi Lancer. The factory Honda Civic of Jordan Guitar and John Sharps will see the 2018 L2 championship driver move up a class.
Lucy Block is back with her Ford Fiesta R2 driving with veteran co-driver Krista Skucas. Speaking of veterans, 2018 third overall co-driver Michelle Miller will compete alongside her husband Chris Miller in their Ford Focus in the national championship. Their season will start at 100 Acre.
L2 will see west coast competitors Craig and Carrie Lumsden make the trip east in their Mazda Speed 3. Veteran driver Tracey Gardiner will also compete at 100 Acre in the ARA debut for her Toyota Yaris. Also competing in the class will be Robert Sanders and Mikey Mettetal in a Ford Fiesta ST.
It's safe to say that the 2019 100 Acre Wood Rally will be one of its most exciting incarnations yet. Want to be a part of it? The regular registration period is still active; sign up to compete before Monday, February 25th to get the discounted rate. With a cap of 75 entries, the 100AW is nearly at capacity, so sign up soon.
Sign up to compete at the 100 Acre Wood Rally here.
More details and stories on competitors and the event will be coming out over the next month. Keep an eye on the ARA pages for more on the 100 AW between now and March 15th.
Photo Credit: David Cosseboom (Top), Peter Lapinski (1)