18 Jul

Gustavo Yacaman Hoping to Return to Rally

Road racer's rally debut a success

Originally Posted on Rally-America.com

by Matt Kalish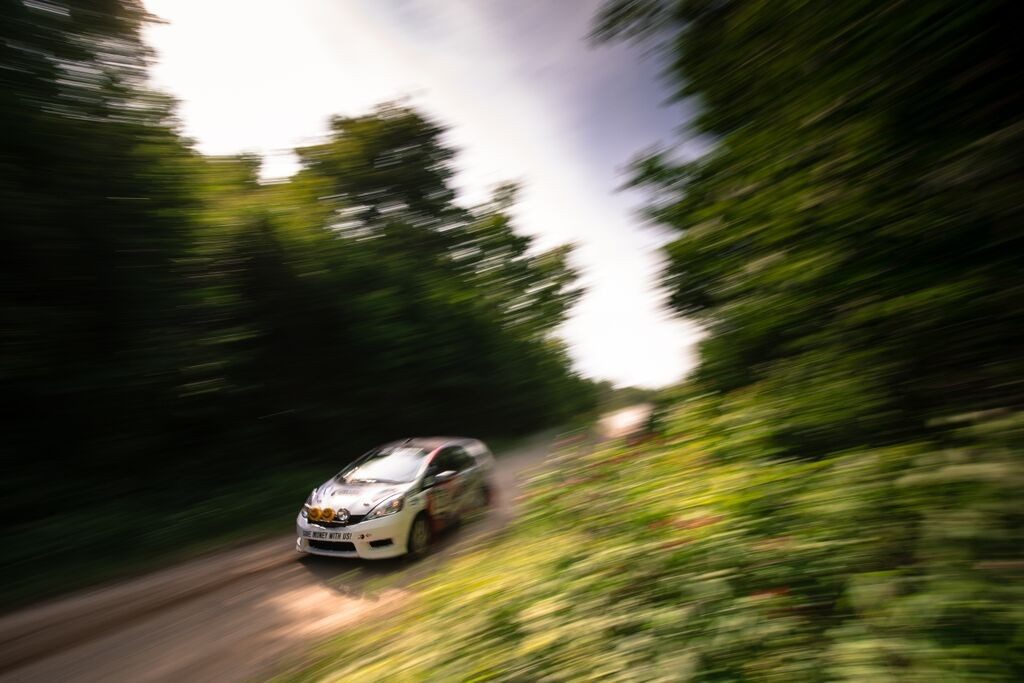 ERROL, N.H. (July 18, 2015) – Colombian driver Gustavo Yacaman appeared as a surprising entry last month in the 25th anniversary New England Forest Rally, driving a Honda Fit in the B-Spec class. It was a big change for the professional road racer, who usually pilots a Ligier Le Mans Prototype in endurance events — including this year's 24 Hours of Le Mans.
"You can't compare. I mean, you're not comparing apples to apples — you're comparing blueberries to melons, basically," said Yacaman, whose LMP2 car is a 550 horsepower, purpose built, aerodynamically assisted machine. The Honda Fit, by contrast, is production based with many off-the-shelf components and produces about 120 horsepower.
"[The LMP2] just goes on rails, and the faster you go, the more grip you have," said Yacaman. The Fit? "It's kind of the opposite: the faster you go, the less grip you have."
Before the New England Forest Rally, Yacaman had never been behind the wheel of a rally car and the driver said the new sport exceeded expectations. "Man, I'm loving it. It's a lot of fun, and it's really, really challenging."
Yacaman said that for him, one of the biggest things to learn has been how to work with his co-driver.
"In road racing, you know what kind of corner is coming up and you know exactly how much speed you can carry through it," said Yacaman. "Here you only have a rough idea from the notes of what's coming. You have to be very careful and leave enough margin for error."
On his first day of competition, Yacaman drove more than six miles on a flat tire and suffered little damage to the bulletproof Honda Fit. That would be unheard of in an endurance race, where punctured tires are replaced immediately. But a rally stage is a very different environment to the pits at Le Mans and when the tire started to go soft, Yacaman made the call to drive it out rather than figure out how to make a swap on the side of the hot stage road. "I don't have 20 mechanics, like I'm used to, to change a tire," he said.
Fellow Honda driver James Robinson, a longtime rally competitor and engineer with Honda Performance Development, said the contrasts between the sports are huge, but the transition between them is natural for a professional like Yacaman.
"For guys like Gustavo that have a lot of natural talent and are already professional racecar drivers, it really doesn't take that long for them to transfer all the skills they already have to this. All the nuts and bolts of driving are the same, it's just getting used to the different conditions."
The rookie finished 15th in his first-ever event, and second in the B-Spec class. Based on his first experience at the New England Forest Rally, Yacaman has caught the bug. Said Yacaman: "This is definitely not my last rally."
Photo: Rally America